2019 FIAT 124 Spider ABARTH - Albuquerque NM
View Inventory

Vehicle Overview
The iconic Abarth line is legendary in every way there is to be legendary in Albuquerque New Mexico. Melloy Fiat is a dealership that strongly believes this is one of the most stylish, performance-driven convertibles ever made. We want you to see the offspring of 1966's first edition of this legendary convertible and know that today's 124 Spider ABARTH is going to be just as iconic as its ancestor. As they say, it's a roadster with street cred.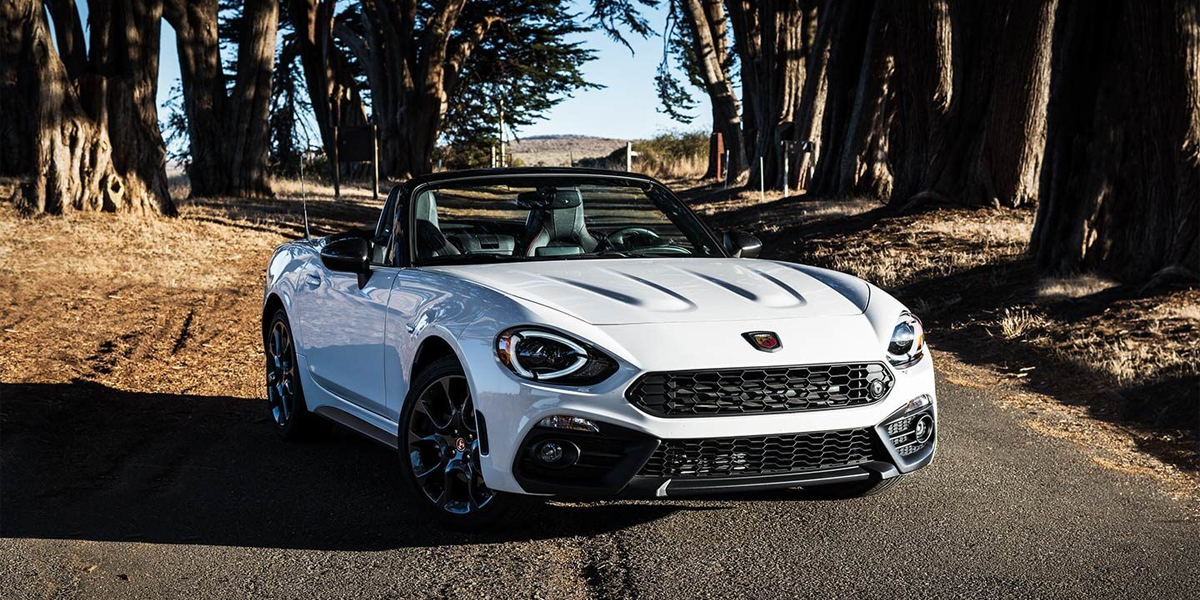 Exterior - 2019 FIAT 124 Spider ABARTH
The ABARTH is one of the most recognizable designs in the world today, with a strong heritage dating all the way back to the 60's. 17-Inch x 7-Inch Gun Metallic Aluminum Wheels make for a sporty appearance right off the bat and accentuate the sloped hood culminating in a very sporty bumper. It's an unmistakably ABARTH design that features convertible capabilities and a true outdoor experience inside a sports car.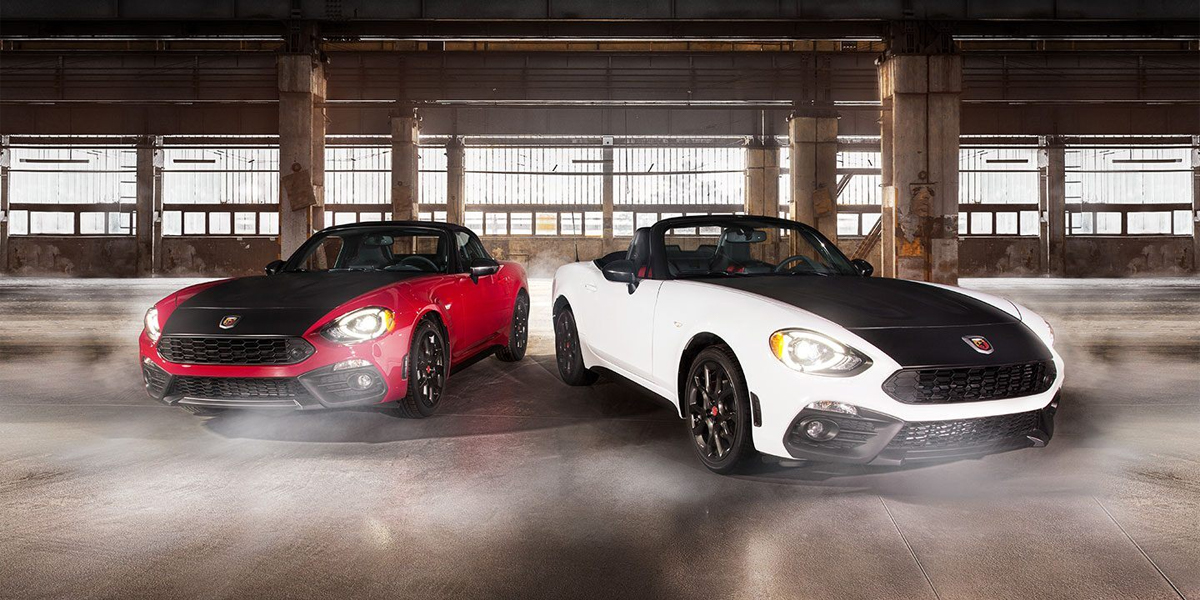 Interior - 2019 FIAT 124 Spider ABARTH in Albuquerque NM
The interior of your 2019 FIAT 124 Spider ABARTH features ergonomically designed heated premium leather and microfiber sport seats right off the bat. As you already know, the ABARTH is the pinnacle of what the 124 Spider is all about. It will be decked out in all the best interior trims and accents for a superb look and feel. Behold the perforated sport steering wheel wrapped in premium-grained leather that is simply too good to be true (but isn't).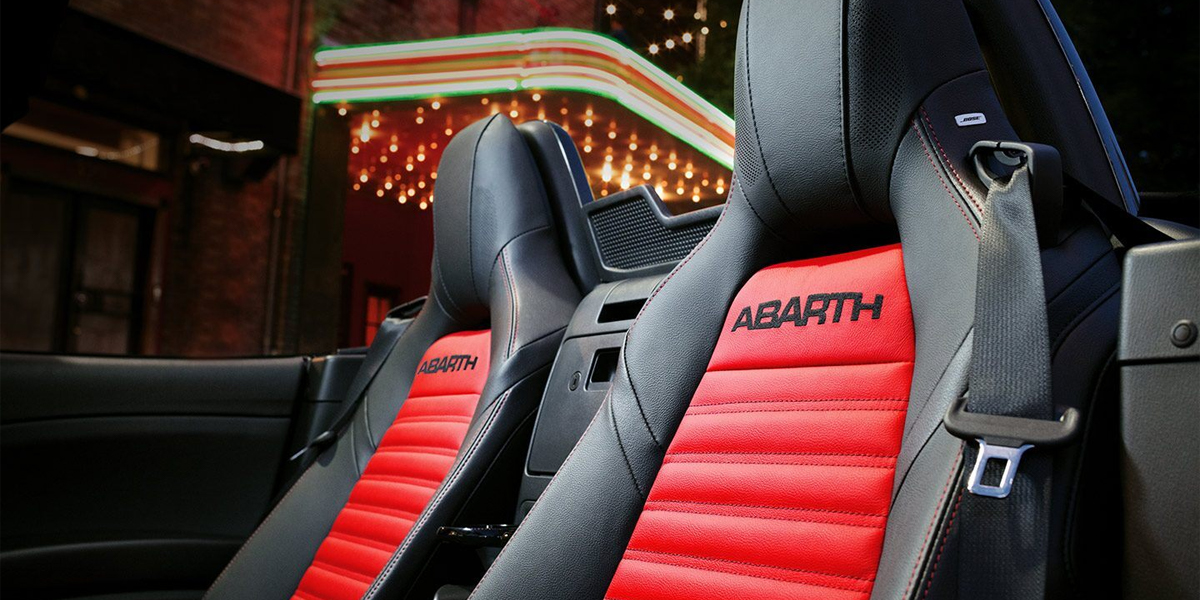 Mechanical - FIAT 124 Spider ABARTH specs in Albuquerque
This is a sports car built for performance, so we'd be doing you a disservice if we didn't cover the mechanical goodies packed into the 2019 FIAT 123 Spider ABARTH review. 6-Speed Manual RWD Transmission is standard on this one, but you also have the option to get a 6-Speed AISIN Automatic RWD Transmission with quick upshifts and downshifts. Brembo 4-Wheel Disc performance brakes give you the premium stopping power you sometimes need when handling a high performance vehicle.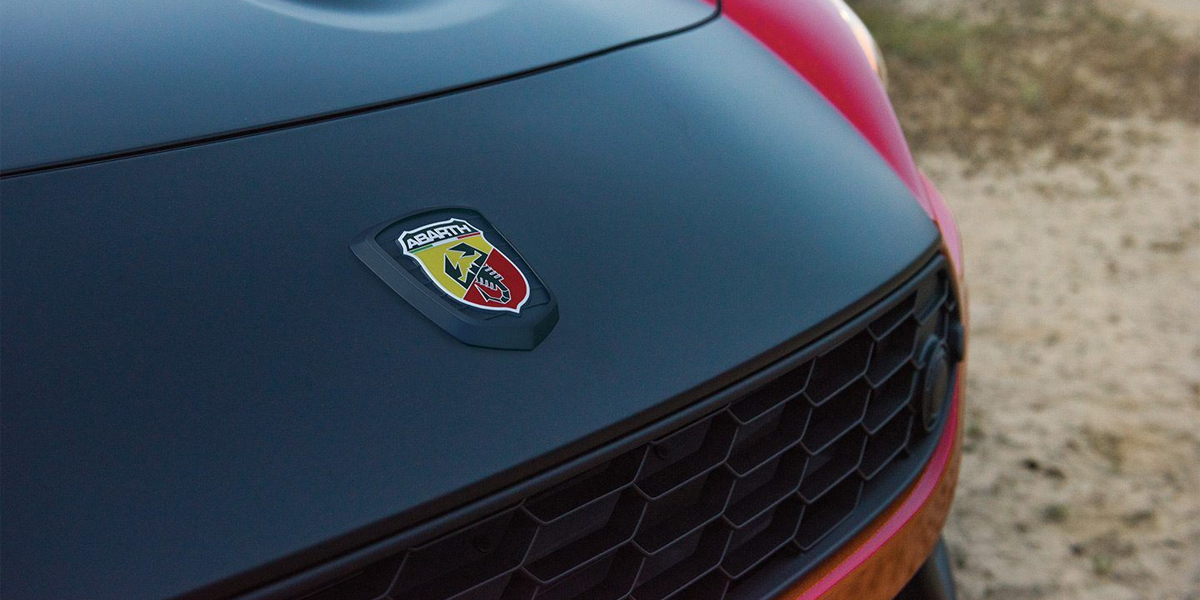 Powertrain - FIAT 124 Spider ABARTH specs in Albuquerque NM
A 1.4-Liter I4 MultiAir® Turbo engine is standard on the 124 Spider ABARTH. Twin intercoolers and a fresh-air system keeps things running cooly and smoothly so that your engine doesn't overheat or suffer from performance lapses due to heat. Horsepower ranges from 160 to 164 hp.
Safety - 2019 FIAT 124 Spider ABARTH dealer
ParkView® Rear Back Up Camera is just the beginning of a very well-rounded safety system. Our 2019 FIAT 124 Spider ABARTH review ends with a look at a few safety features just like this. You want a vehicle like this to give you confidence when you drive, to let you know that you've got a little help out there on the road. Camera views on your 7" touchscreen can help you when backing up or parking, but there's also Blind Spot Monitoring, steel safety frame built right into the design, and crumple zones for protection in the event of a crash. Melloy Fiat believes in selling only cars that meet our high personal standards for safety. Thankfully, we can confidently recommend the 2019 FIAT 124 Spider ABARTH to you because it gives you a safe design with ample driver-assist features to help prevent crashes, too.
Melloy Fiat is proud to offer up the 124 Spider ABARTH for sale in New Mexico. We love it for its sporty good looks, luxurious and posh interior stitching and trim, and pure convertible sports car goodness right on down to the powertrain and mechanical system. There's just far too much on this one that we could tell you about, so instead of reading, why not give us a call and ask us for a test drive instead? Our friendly team is well-versed in the niceties of the Spider ABARTH. They can let you feel just how plush the interior seating feels, let you get behind the wheel and feel the luxuriousness of the wheel in your hands, and then let you speed off down the road to get a feel for what makes this such a fun car to drive. Our team never stops trying to show our customers the best cars of 2019, and we would definitely, without question, rank the Spider ABARTH one of those cars. When you've looked it over enough and feel comfortable, just give us a call! Thanks for reading out 2019 FIAT 124 Spider ABARTH review.