New RAM 2020 RAM 1500 vs 2020 Ford F-150 in Albuquerque NM for Sale in Albuquerque NM l Las Cruces
2020 RAM 1500 vs 2020 Ford F-150 in Albuquerque NM
View Inventory


Vehicle Overview
We all know from the beginning of this comparison that the Ford F-150 always sells well. It had an early start in the industry, and people often go with what's familiar, not what's highest quality. So don't let the sales numbers fool you. The 2020 RAM 1500 is going to be the premier light duty pickup truck to own this year no matter what the sales numbers say. The truth is that many people are blinded by those past sales number and overlook trucks just like the RAM 1500. It's a truck that's superior to the F-150 in all the ways that matter. If you want to grab a pickup truck even better than the F-150, please open your mind to the new RAM 1500. We know that once you get to know it a little better, you're going to want to visit us here at our NM dealership and take it for a spin.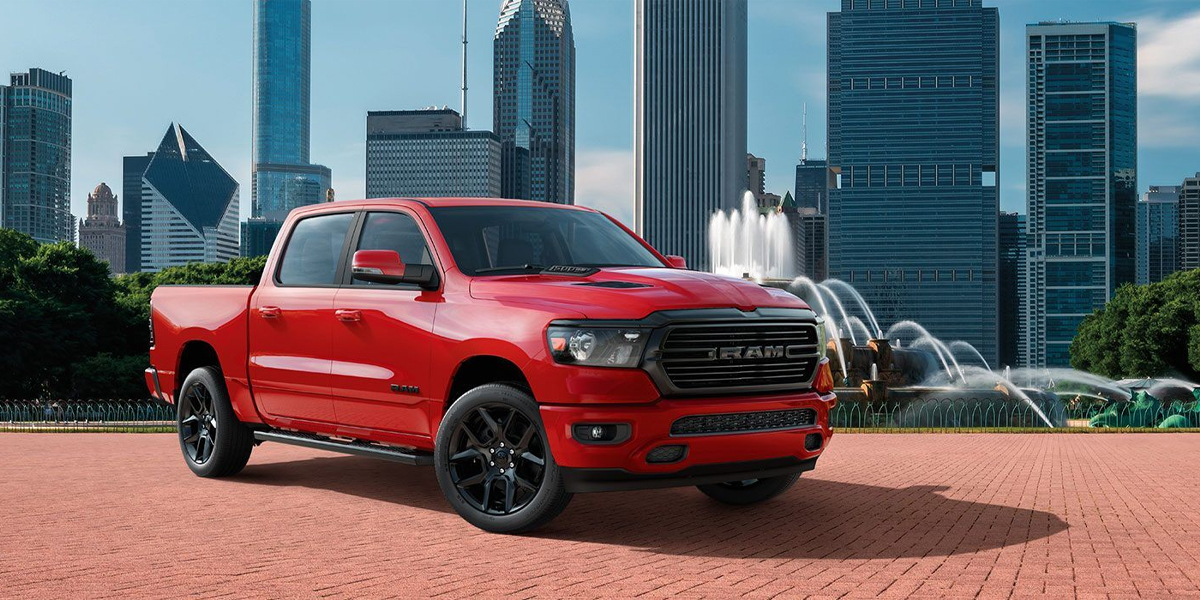 Exterior – 2020 RAM 1500
Your Ford trucks have always been keen on the aluminum build. And if you think of aluminum, you'll probably associate it with soda cans most of all. Granted, it's not quite that flimsy when it's constructed for a Ford vehicle, but we'd take our chances on the high strength steel body of the RAM any day. RAM doesn't believe in going away from the good old-fashioned American trust in high strength steel. It has gotten us this far and proves more durable over time. It's also easier to repair should you ever suffer a fender bender or body damage to your 1500. Repairing a Ford can be almost as inconvenient as driving one. Winner: 2020 1500.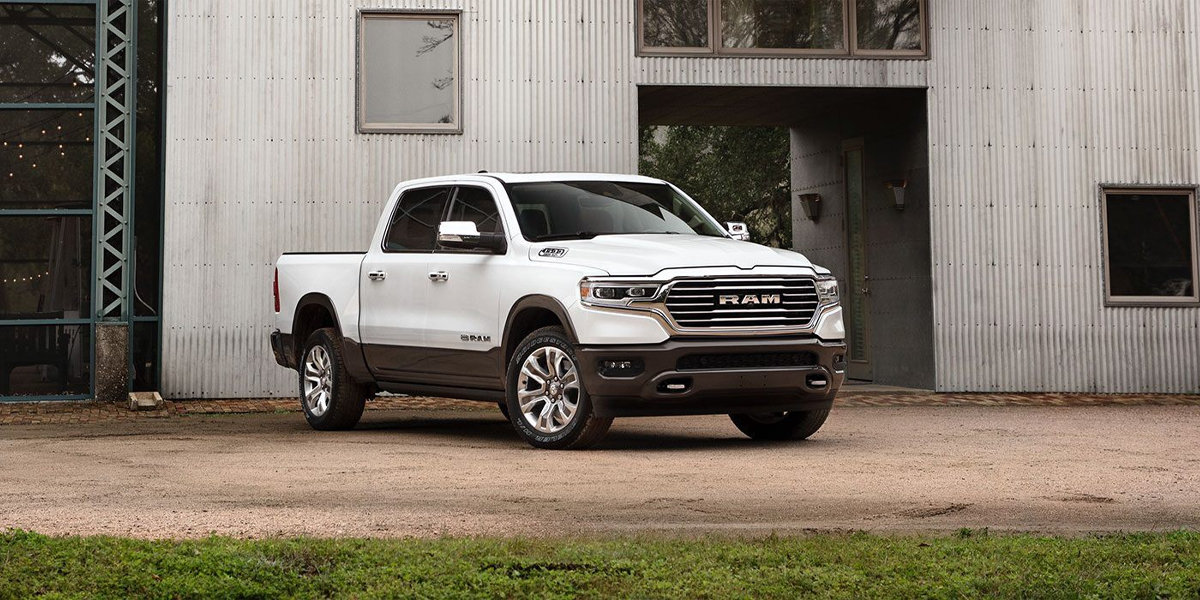 Interior – 2020 RAM 1500 in Albuquerque NM
You don't make a "most luxurious pickup truck in its class" boast unless it's 100% true. Any automaker wouldn't go as far as to say that if it weren't true because we all know there is a chorus of people online willing to debate that fact in unison from the moment you say it out loud. So when the 1500 makes that claim, it means business, and it has the interior to back it up.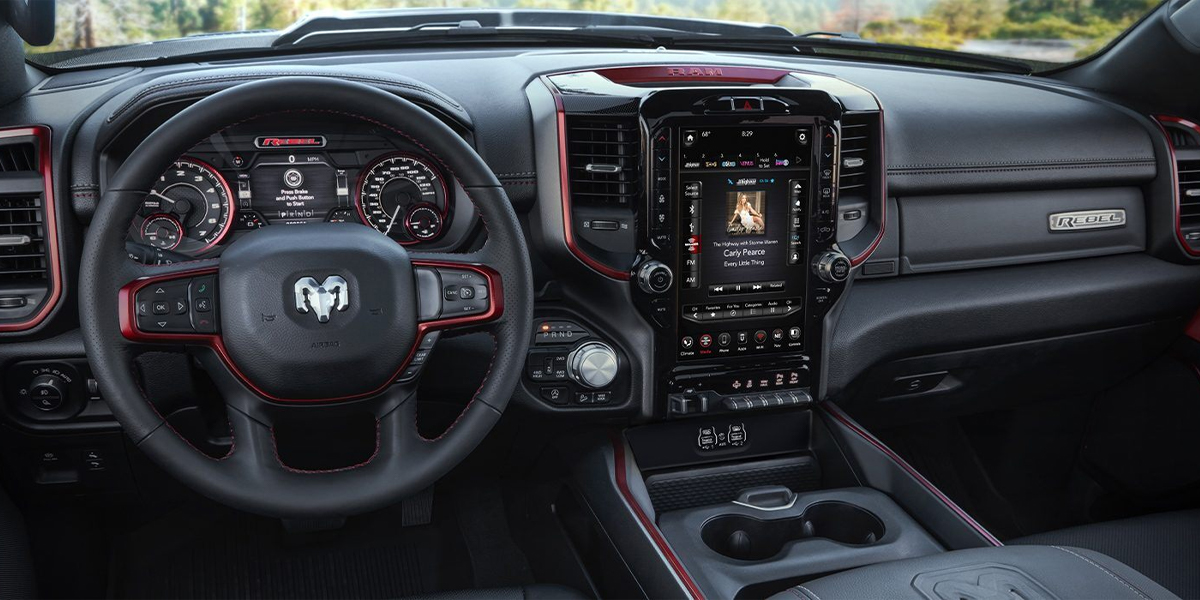 Editions like the Laramie Longhorn are dressed in formal attire: luxurious Nappa Plus Filigree leather in beautiful Mountain brown and light mountain brown for an interior that feels like you just stepped foot into your favorite campsite. You're also greeted with real wood and chrome accents on the inside, literally bringing a bit of the campsite into your space. Best of all, you have the best of the modern luxuries, too. You get a 12″ touchscreen infotainment system that's powered by UConnect (navigation included). As the largest touchscreen in its class, the 2020 Ford F-150 has no equal to counter it. Winner: 2020 RAM 1500 by a landslide.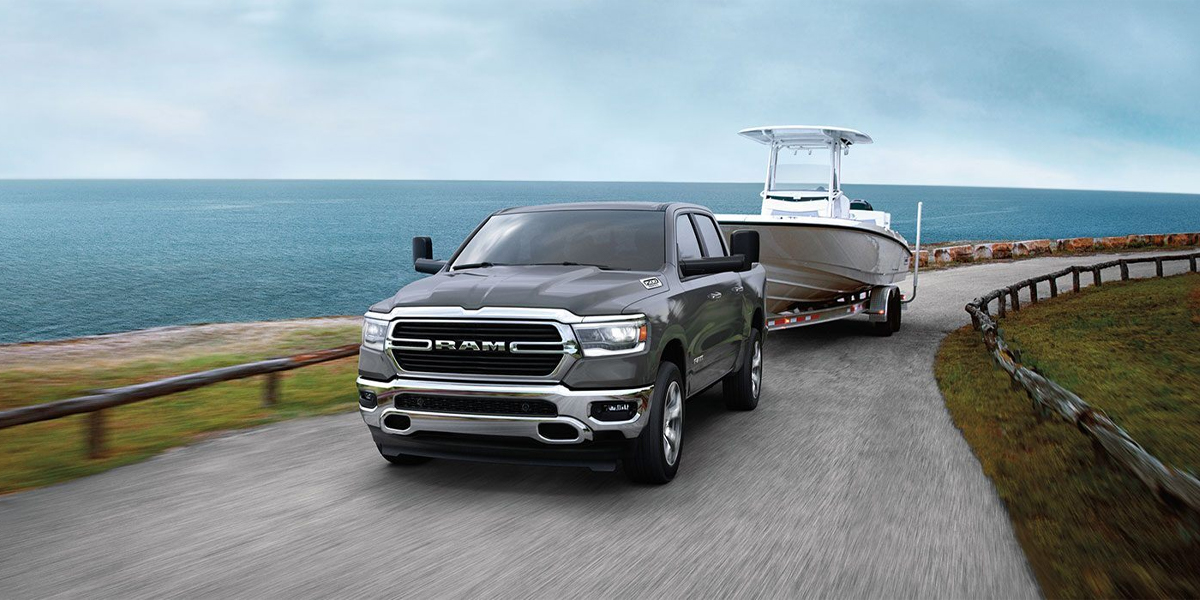 Powertrain – RAM 1500 specs in Albuquerque NM
This one is a no brainer in every sense of the phrase. Use wits. Would you rather have a truck that has 290 horsepower powering it or a truck that gives you the 395 horses of the Lone Star 1500 (courtesy of a 5.7L V8 Hemi engine). If you said, "395 horsepower" then you're thinking on your feet and with some good old RAM common sense. We'd like to point out that there is a 395 horsepower F-150 as well, but it's featured on a higher trim and costs much more than the RAM HEMI V8 engine.
What does more power get you? It gets you a more efficient acceleration while you're taking on the tougher, more uphill roads in America. It nets you a tow rating and payload you can be proud to casually mention to your buddies. When people see you driving the 1500, they're going to know that you're working with a tremendous amount of power. And it's not just power to grab numbers. It's focused power with many mechanical innovations (such as a rear stabilizer bar) that give you control over that power. A Ford F-150 features plenty of innovations as well, just not quite as many. You'll find the drive in your 1500 far surpasses anything the F-150 might offer.
Contact Us Today – 2020 RAM 1500 dealer
The 2020 1500 would be a contender against any pickup truck in the industry this year. The light duty truck category is always much slimmer than we'd like to see it, but the F-150 is always the "to beat" truck in the business, and this year's 1500 narrowly, but convincingly, tops the F-150. It's not to say that there aren't people out there who will love the F-150. There will always be F-150 fans! However, if you are disappointed in the new features of the F-150 and at a loss for where to go from there, we recommend going straight to our dealership in Albuquerque NM and talking to one of our sales team! We'll get you set up for an exciting test drive in the new 1500. We know you're going to love it. Call today to schedule or just stop by and see us when you have time. We take walk-ins for test drives every single day.