New Ram 2020 Ram 2500 Lease and Specials serving Lubbock TX for Sale in Albuquerque NM l Las Cruces
2020 Ram 2500 Lease and Specials serving Lubbock TX
---

Ram 2500 Lease Specials and Finance Offers in Albuquerque NM serving Lubbock, Amarillo TX
Why Lease or buy 2020 Ram 2500 serving Lubbock TX
The 2020 Ram 2500 near Lubbock can tow up to 19,680 pounds of luggage with the Cummins diesel engine on a two-wheel drive. Also, the truck has a maximum payload of 4,380 pounds if equipped with the Hemi V-8 and two-wheel drive. Generally, the new 2020 Ram 2500 has the following: Impressive power and torque from available diesel engine, Versatile high-tech cabin, especially on higher trims, Comfortable seats and a quiet cabin for such a big vehicle, Power Wagon trim offers massive off-road capability.
*Not actual vehicle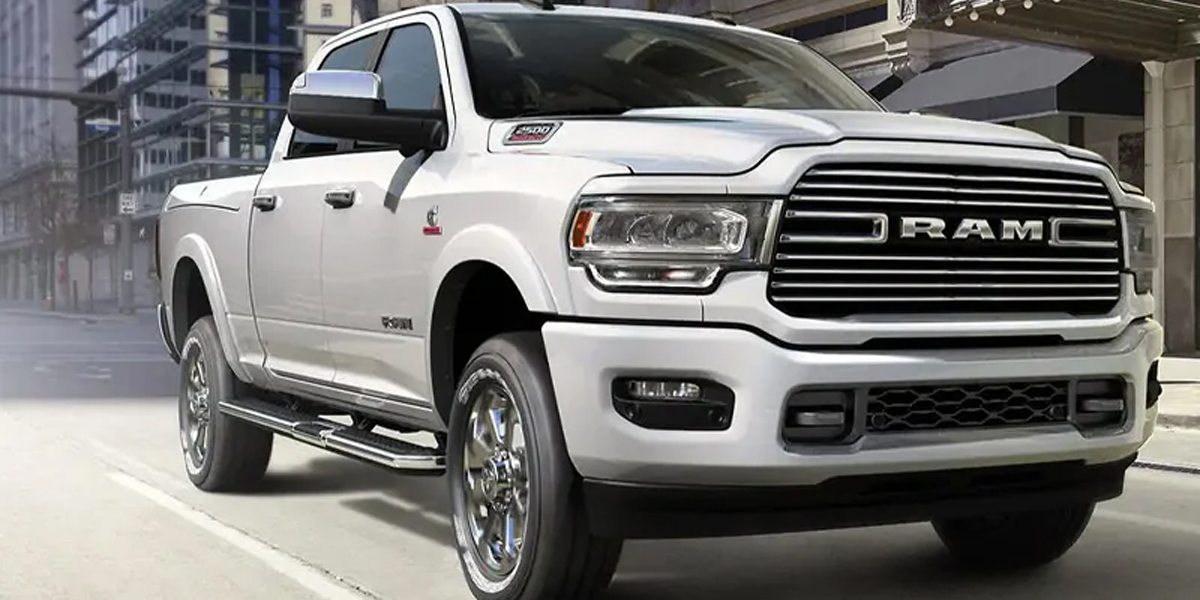 Exterior – Ram 2500
Ram 2500 is slick with a wide array of colors from the 2020 palette, including the two new shades for this year's model. However, there are twenty additional limited colors available to choose from. These colors from the standard palette include Flame Red and Bright White (at no cost). The three options from a two-tone exterior include billet silver metallic, Diamond black crystal pearl, and RV Match Walnut Brown Metallica. Nice-looking LED headlights and taillights, a better-looking bumper, a dome-shaped hood, a big front grill which is different from each Ram six trim levels with a high-quality chrome and comes with 20-inch wheels. It also comes with a power sunroof, towing technology group, 12-inch Uconnect screen, and a bed utility group.
*Not actual vehicle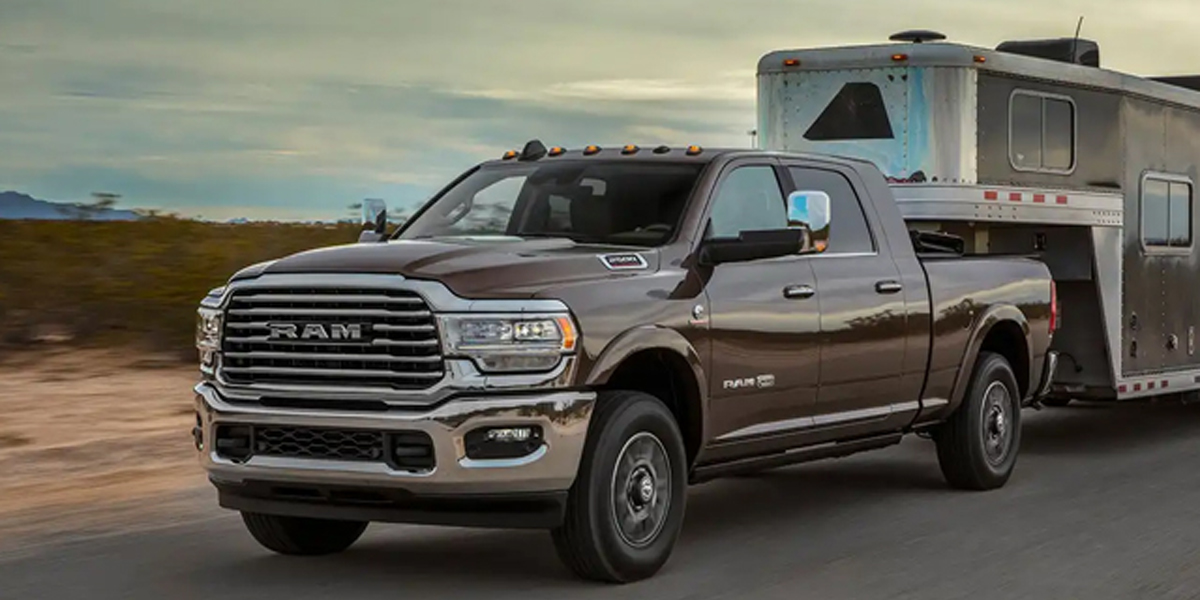 Interior – 2020 Ram 2500
The interior has ample space with luxury leather covering the entire dashboard, door panels, armrest, seats, contrast piping, stitching patterns that resemble longhorn, and an aluminum speaker's cover on the roof. Not only is Ram 2500 fitted with the best material, but it also offers the best technology in any pick-up truck with the best internet specials for Lubbock.
*Not actual vehicle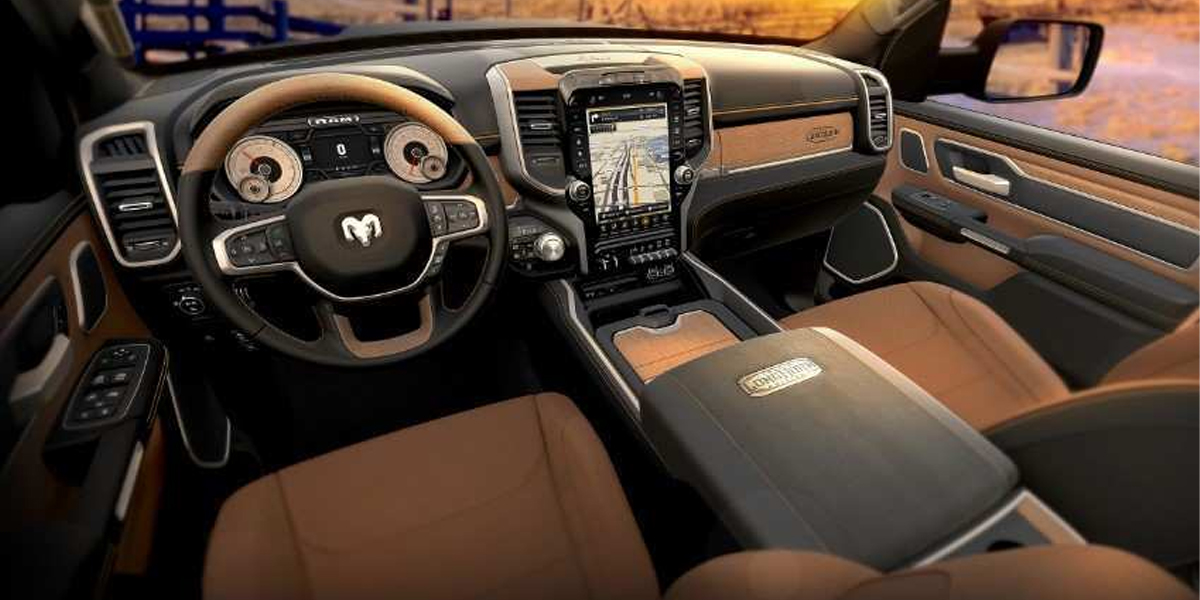 Mechanical – 2020 Ram 2500
With Americas Lowest price on a new RAM near Lubbock city, you will get Price on a new RAM 2500 with a powerful turbo engine, 3200 RPM, and a 6.7-liter Cummins L-6, paired to a Ram design six-speed. For a standard engine 6.4 liter Hemi gasoline V8, It produces a 410 hp 429 lb-ft joined to an eight-speed gearbox. The power wagon has an off-road optimized ready suspension for the Hemi that can pull a 1420 pound payload or tail a 9,470-pound trailer. The 2020 Ram 2500 near Lubbock has two available bed options, the 6-foot, 4-inch bed of 57.5 cubic feet of space, or the 8-foot bed that boasts 74.7 cubic feet. This new generation has an electronic 4wheel drive without the manual lever, but unlike the RAM 1500, there is still a manual foot pedal for parking breaks and a gear sleeker. The off-road tires are 66psi for this new Ram and perfect for this kind of truck. Something else cool about the new Ram 2500 found near Lubbock is the exhaust brake. It closes off the engine exhaust manifold to build pressure so that when you are coasting, it physically slows down the crankshaft.
*Not actual vehicle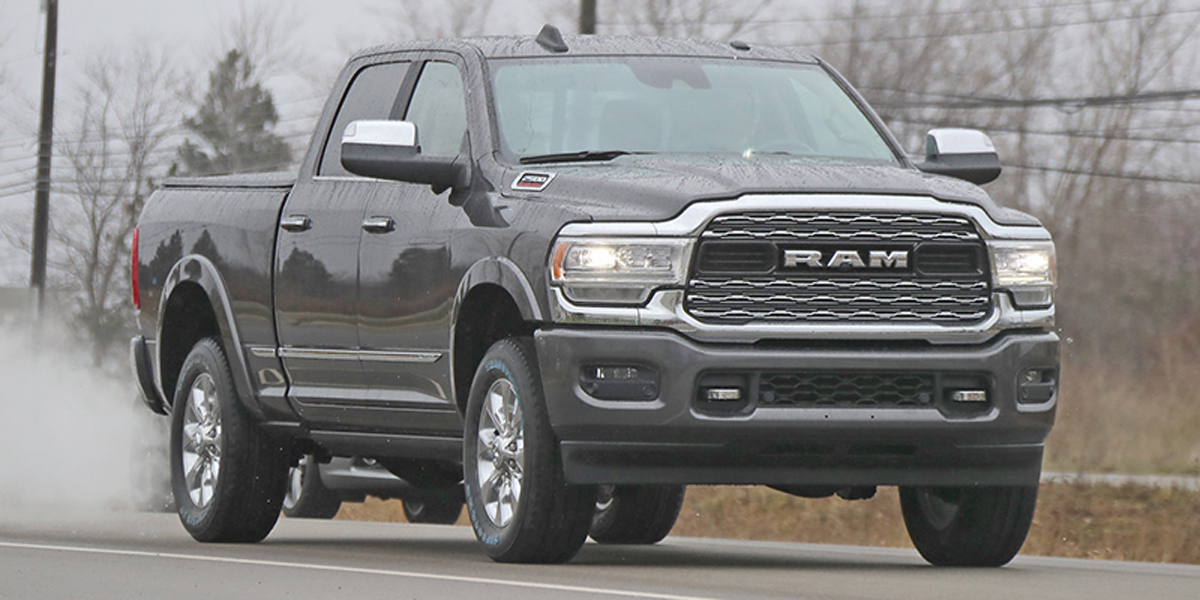 Technology & Safety – 2020 Ram 2500
The 12-inch Uconnect screen takes over the entire dashboard, the radio and the climate still take buttons and knobs. The tight phases on-screen are of great size, and you can choose what you want the home screen to display or tap a giant map with easy destination searches. All settings are well-organized and explained, making it easier to navigate from preset for trailers to WI-FE and music. The second best part of this truck technology is the cameras. You can easily see all around the truck with a backup camera looking at the car's bed, which is center-aligned to help you reverse and switch to every possible angle. The inside panel has another large display that replicates any functions on the main screen with a mix of digital and analog gauges. Compared to most trim levels, the Ram 2500 comes with adaptive cruise controls, an automated emergency braking system, a collision warning, and an automated blind-spot monitoring system. With Americas Lowest Price on a new RAM 2500, the truck comes with front and side airbags impact and side curtain airbag standards.
Request 2020 Ram 2500 Specials in Albuquerque NM serving Lubbock, Amarillo TX
For this truck, there is no match of what it can do, especially for long distances. The quality of the interior is astounding, even on the lower-trim of Ram. The infotainment is like no other pick-up truck, and because it has many optional features, this makes it the ideal pick-up to buy on the internet specials for Lubbock.