New Ram 2021 Ram 1500 Lease and Specials serving Amarillo TX for Sale in Albuquerque NM l Las Cruces
2021 Ram 1500 Lease and Specials serving Amarillo TX
---

Ram 1500 Lease Specials and Finance Offers in Albuquerque NM serving Lubbock, Amarillo TX
Why Lease or buy 2021 Ram 1500 serving Amarillo TX
The Ram 1500 series of pickup trucks has long been one of the most luxurious pickup trucks ever made. Not only does it have the macho exterior of pickup truck legends, but it becomes a gentleman on the inside, cultured and mannered in a way that only Ram could dream up. Expectations were high for the 2021 Ram 1500, following a long line of urbane and highly sophisticated technology innovations in the past few years. We're here to see if the 2021 Ram 1500 serving Amarillo is living up to all those expectations and just how much you can save by using Melloy Ram online specials to get a best price on the 2021 1500.
*Not actual vehicle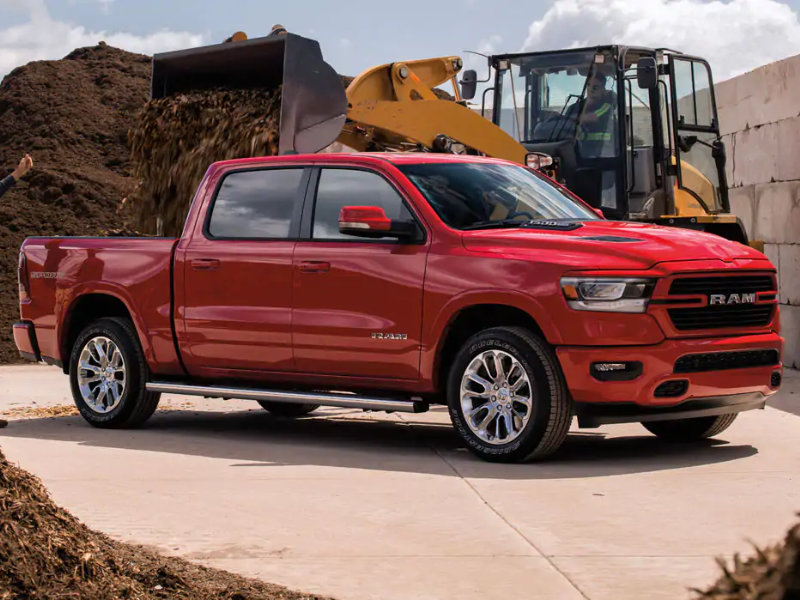 Exterior – Ram 1500
The grit and heart of the 2021 Ram 1500 serving Amarillo is evident in its physical build. You can see the care, time, and expertise that Ram put into designing your ultimate light duty pickup truck. Sewn into the heart of every Ram 1500 is a multifunction tailgate, RamBox cargo management system, and dampening systems that make operating your truck much easier. Advanced towing equipment can also be added onto your arsenal to make sure that you have the right tools for the hardest occasions. The multifunction tailgate swings open at 88-degrees this year. Signature LED headlamps sculpted in a new, more muscular format will also appeal to fans of the more modern pickup truck. The decorum at the grille and headlamp area is embellished with an all-in-one look that's distinctly Ram 1500. Above all, though, the exterior of the 2021 Ram 1500 is designed to assist you in all your pickup truck chores. It has an optional nitrogen- and oil-charged dampened tailgate, power running boards that deploy when the door opens, and a sculpted hood that's designed to increase visibility and really let the brawny headlamp design shine out. User our online specials to Amarillo Texas to get get the best price on these available features.
*Not actual vehicle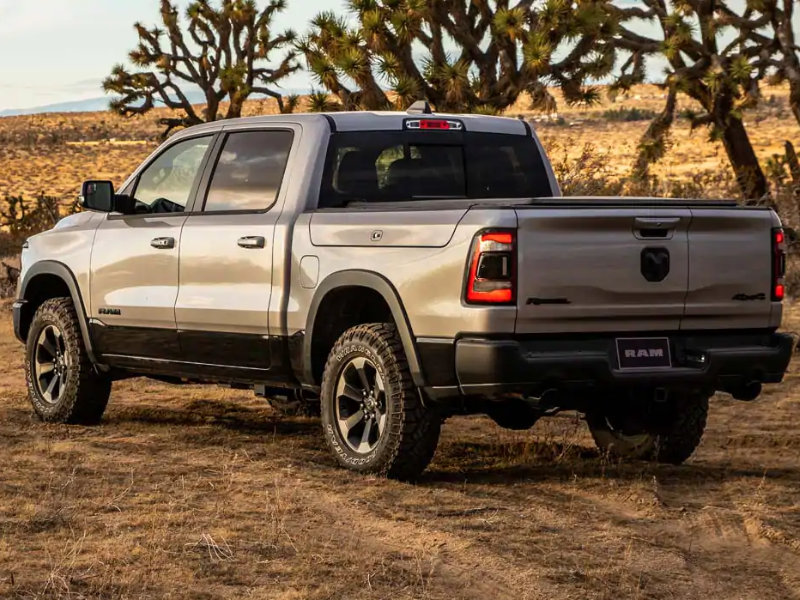 Interior – 2021 Ram 1500
The interior of the Ram 1500 has long been recognized as the most luxurious in its class. It's a pickup truck with a distinct sedan-like feel on the interior, and it's just as functional as a family sedan with all the work performance of a pickup truck. If you want a dual purpose pickup, this is your dream truck. Inside the 1500, you'll find all the delights of the family wagon or SUV. Its noise cancelling technology keeps things at just 57.6 decibels. Even when you're working with the 1500's strongest engines, your family and work crew will feel the complete peace of the cabin. The rear seats recline here to a delightful angle and then give you 45.2 inches of rear legroom, so this is THE pickup truck to own if you're bringing along family. Clever in-floor storage gives you additional places to put your cargo without cluttering up passenger areas. Unique interior colors are also available this year in Nappa leather, such as the dipped mountain brown of the Longhorn trim. Our online specials to Amarillo Texas were tailored to people who want to pick up these touches of excellence to their 1500 cabin.
*Not actual vehicle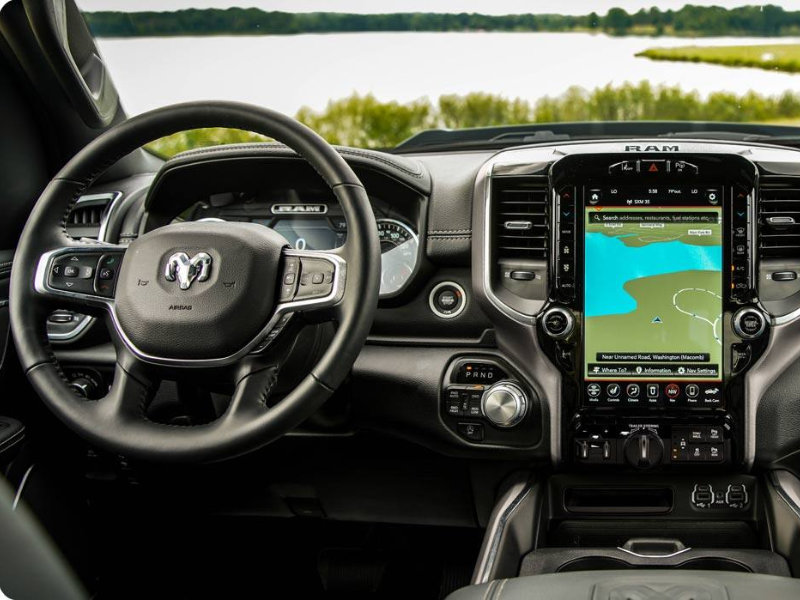 Mechanical – 2021 Ram 1500
Upgrading your standard powertrain is another reason to take advantage of our Melloy Ram online specials. A 5.7L HEMI V8 is your 12,750 pound towing milestone. It features 395 horsepower and 410 lb-ft of torque for a superlative performance that you really feel with each mile you drive. The powertrain choices are combined with a TorqueFlite 8-speed automatic transmission. This new technology optimizes your changes in shift for a premium drivability that you'll never forget. This is by far an upgrade over any prior Ram 1500.
*Not actual vehicle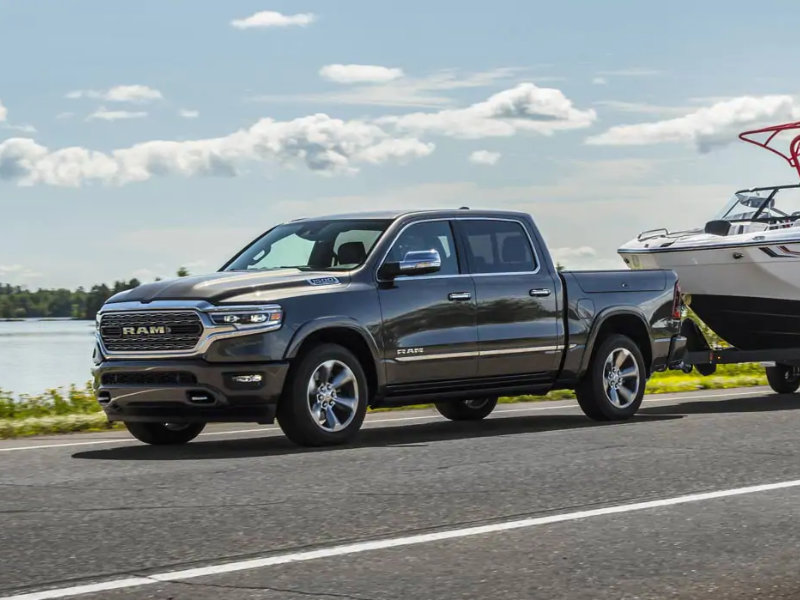 Technology & Safety – 2021 Ram 1500
The cabin of the 1500 is all about technology. From its 12-inch touchscreen infotainment system crafted to be sensitive to pinch-zoom movements, to its large head-up display that enables you to keep your eyes on the road at all times, you'll feel the power of the feast of technology the 1500 comes with. A new digital rearview mirror is another handy tech feature. It's an LCD monitor that really gives you a crystal clear view of the rear area of your Ram 1500. Finally, a 7-inch digital instrument cluster is now illuminated with soft lighting that will get you more excited to drive than ever. Controlling the Ram 1500 is a pleasure. Ram boasts some of the most powerful driver-assist features in the world. They crafted the Ram 1500 to be completely safe and comfortable for you to drive. Built into every Ram 1500 is a suite of safety features that intelligently work with you to keep tabs on your environment. You'll love Forward Collision Warning with Active Braking, a system that detects dangers and then averts them. New Blind Spot Monitoring gives you more ways than ever before to effortlessly keep track of your blind spot and respond to any threats in that unknowable area of your truck.
Request 2021 Ram 1500 Specials in Albuquerque NM serving Lubbock, Amarillo TX