New Ram 2021 Ram 1500 TRX Lease and Specials serving Lubbock TX for Sale in Albuquerque NM l Las Cruces
2021 Ram 1500 TRX Lease and Specials serving Lubbock TX
---

Ram 1500 TRX Lease Specials and Finance Offers in Albuquerque NM serving Lubbock, Plainview TX
Why Lease or buy 2021 Ram 1500 TRX serving Lubbock TX
The 2021 Ram 1500 TRX is the half ton pickup truck of the ages. It's outfitted with a supercharged engine and comes with an interior that's primed for luxury and refinement. It's all the best that pickup trucks have to offer and then some. Our Lubbock review will be serving Lubbock Texas shoppers with a brief overview of just what this high performance off-road truck has to offer shoppers here at Melloy Ram. We hope that our 2021 Ram 1500 TRX review gets you as excited about the TRX as you should be (and believe us, you should be). This is a once in a lifetime pickup truck.
*Not actual vehicle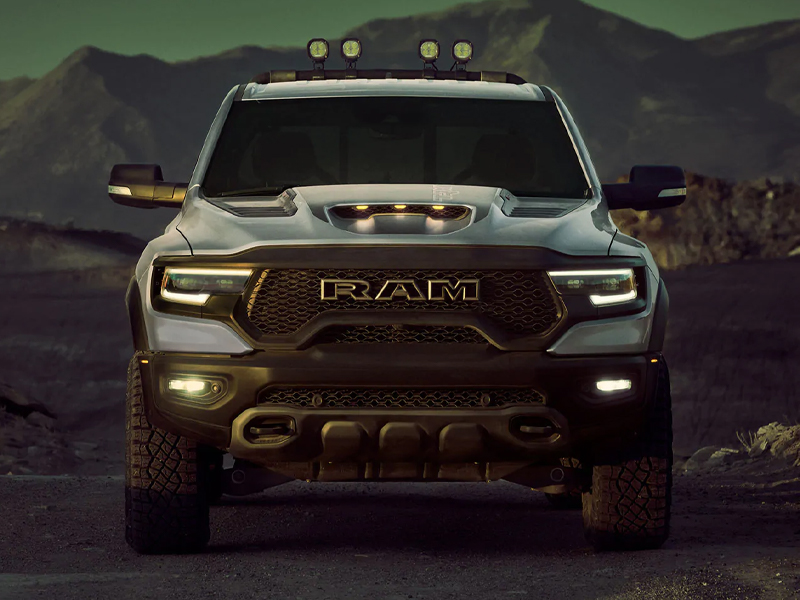 Exterior – Ram 1500 TRX
The large, bold grille of the TRX is front and center with large, blacked out RAM block letters and a black surround that showcases the LED headlights. These intelligent headlamps adjust automatically to light levels around them. The wide fender look is rarely maximized the way it is on the TRX, but this is one truck that goes wide and doesn't say it's sorry. The look is critical in its handsome design. Tons of touches around the truck enhance drive quality and aerodynamics, too, including heat extractors and functional scoops. Matte black 18-inch aluminum wheels create an alluring look, too. One of the biggest news stories of the year is the Anvil paint that's going to be available on the launch edition of the TRX. If you want something fully custom on your pickup truck, you don't want to miss out on Anvil. You also get a special badge with the launch edition. It has your truck's VIN and even its tech specs on there, and it goes right on your center console. It's a little something extra from the folks at RAM who are so proud of their TRX. And you'll be proud of the TRX when it becomes yours, too.
*Not actual vehicle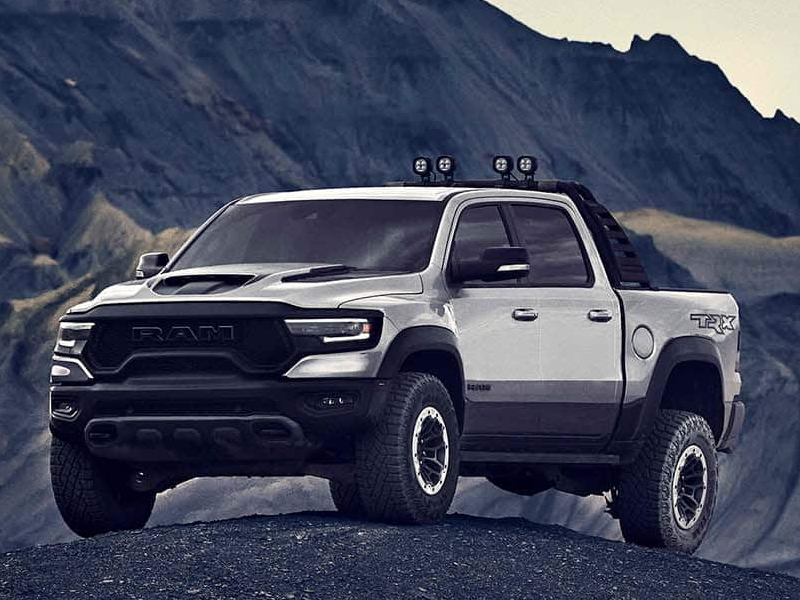 Interior – 2021 Ram 1500 TRX
The gorgeous black and graphite leather interior of the TRX is just one of four options you have for your interior seating materials. Carbon fiber and TRX red interior packages are also available to give you an even more premium look. Your shifter in the center is your right hand man, giving you a silvery, premium shifter that also has a neat manual shifting mode for more hands-on fun. TRX badges are everywhere throughout the cabin (glove box and center console to name just two). And aluminum shift paddles create the perfect ambiance on your flat-bottom steering wheel. The size of your large touchscreen infotainment system hasn't been announced yet, but that information will be upcoming in another Lubbock review.
*Not actual vehicle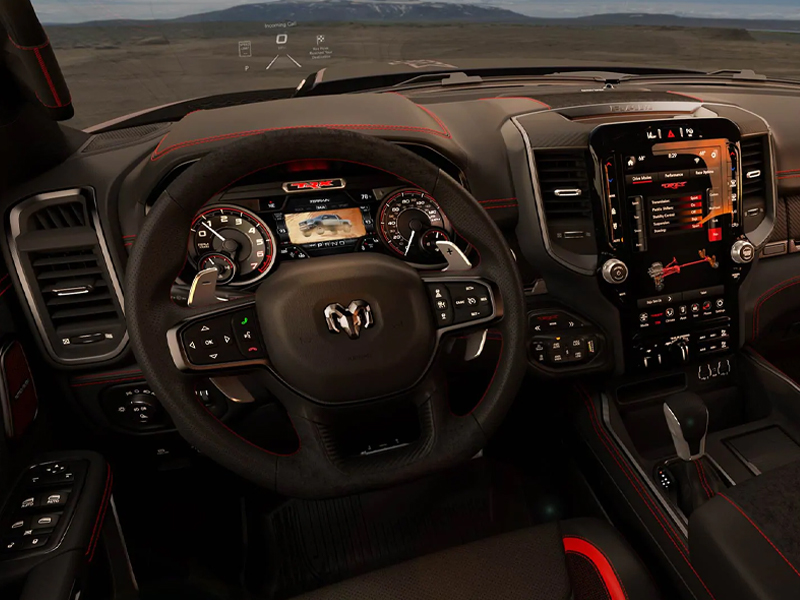 Mechanical – 2021 Ram 1500 TRX
You get a 6 or 8-speed automatic transmission on the 2021 TRX. While that announcement isn't set in stone yet, that's what most every 2021 Ram 1500 TRX review has estimated so far. If that spec changes, we'll be sure to update. Ram is known for serving Lubbock Texas with state of the art mechanical design, but this year's TRX is above and beyond anything they've ever done before. Dynamic drive modes up your fun even more. Just pick the kind of drive you want, and zip off. You even have launch control on the TRX. RAM made it possible to keep up with all your vehicle dynamics in your performance pages. You can even dial in steering angles and lock your own axles using their performance features. It's a one touch, one setting way to control the kind of precision drive you want to experience every time you hit the road in the new TRX.
*Not actual vehicle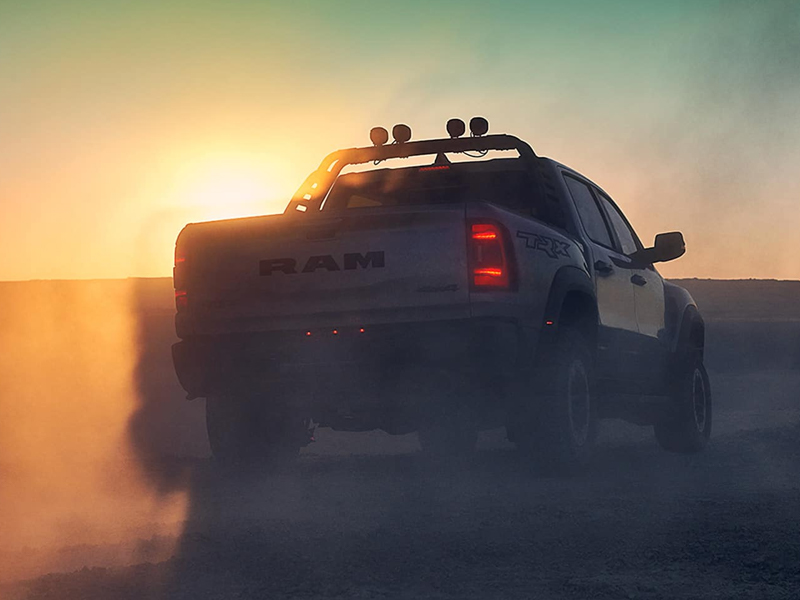 Powertrain – 2021 Ram 1500 TRX
Just saying the powertrain of the TRX is fun to do. Its 702 horsepower, 650 lb-ft of torque is a touchdown of epic proportions. Its sprints from zero to 60 in a punishing 4.5 seconds and never looks back (you won't either). This much power is courtesy of a supercharged 6.2L HEMI V8 engine that is all energy all the time. It's one of the most blisteringly fast drives of any pickup truck in history, and with all the drive modes and mechanical innovations, you'll never ever lack for something to appreciate about your power. Or you can just sit back and enjoy the drive. The powertrain of the TRX is the most powerful in its class and there will be no rivals in 2021.
Safety – 2021 Ram 1500 TRX
The safety systems on the TRX haven't been officially announced yet, although we can gauge its possible driver-assist platforms based on what RAM traditionally gives its top of the line pickup trucks. You'll likely get cutting edge features like over a dozen camera angles, a parking camera, rear parking sensors, blind spot monitoring, and automatic emergency braking, to give you just an idea of what the TRX might offer. Remember that safety systems are often tweaked right to the end of launch, so it's possible that any or all of these features could change or even become something more advanced. Be sure to check back often to find out official safety specifications for the new TRX.
Visit us here today at Melloy RAM and be the first person to get your hands on the 702 horsepower 1500 TRX. We have all the fixings, too, including Mopar accessories like the RamBar and aluminum Rock Rails. Call today to learn more.