New Ram 2021 Ram 2500 vs 2021 Chevrolet Silverado 2500 – Amarillo for Sale in Albuquerque NM l Las Cruces
2021 Ram 2500 vs 2021 Chevrolet Silverado 2500 – Amarillo


View Inventory
If you live in the Greater Amarillo area and are considering an HD pickup for your next vehicle purchase or lease, then there is a good chance that you are looking at both the Ram 2500 and Silverado 2500. These are among the most popular HD pickups not just in this region but throughout all of North America. Melloy Ram is thrilled to announce that the 2021 Ram 2500 is now available to test-drive, own and lease and that we have Melloy Ram online specials available for both financing and leasing. Since we receive so many requests about comparing these two models, we wrote this 2021 Ram 2500 vs 2021 Chevrolet Silverado 2500 comparison to cover the most common questions consumers have.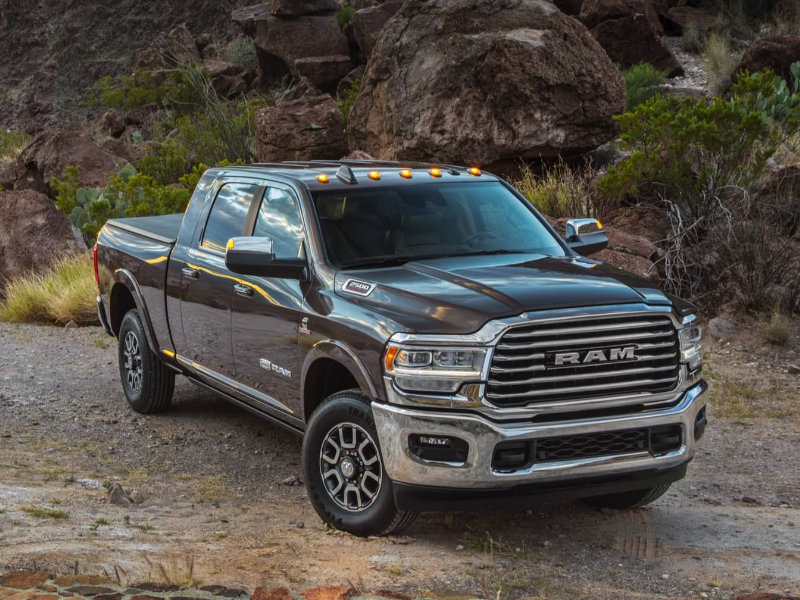 Exterior – Ram Dealer serving Amarillo TX
Ram offers six distinct trim levels ranging from the base Tradesman to the high-end Limited, and we offer specials to Amarillo customers for all of them. You have your choice of a two-door regular cab with an 8-foot box, a four-door crew cab with either that bed or a 6-foot-4-inch box or a four-door mega cab with the shorter bed. Availability of the regular cab is limited to the Tradesman and Big Horn, which is known as the Lone Star in Texas. The Power Wagon comes exclusively with the crew cab and 6-foot-4-inch box. The 2021 Chevrolet Silverado 2500 is offered in similar configurations. Its regular cab is paired with a long bed that measures about 8 feet. Its double cab—comparable to the Ram crew cab—can be had with that long bed or a standard bed that measures almost 7 feet. Its crew cab—comparable to the Ram mega cab—can be had with either the standard or long bed as well.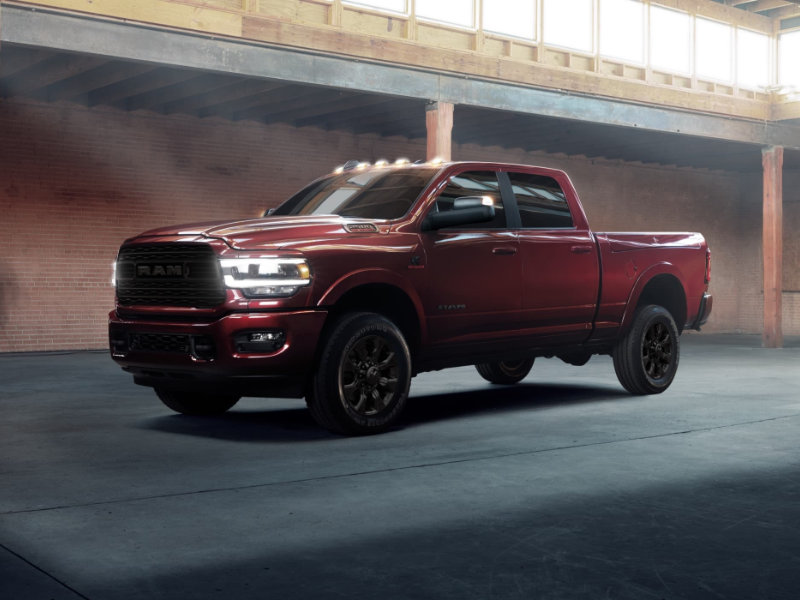 Our Ram dealerships offers specials to Amarillo drivers for all three cab styles, and the best cab for you comes down to how much seating and legroom you need. The regular cabs seat up to three, and the extended cabs can seat either six or five depending on the style of front seat you choose. If you are considering the largest cabs available, then both the Ram and Chevrolet are similar offering more than 43 inches of rear legroom. The difference between the Ram crew and Chevrolet double, however, are significant with the Ram offering 40.2 inches of rear legroom and the Chevrolet just 35.24 inches.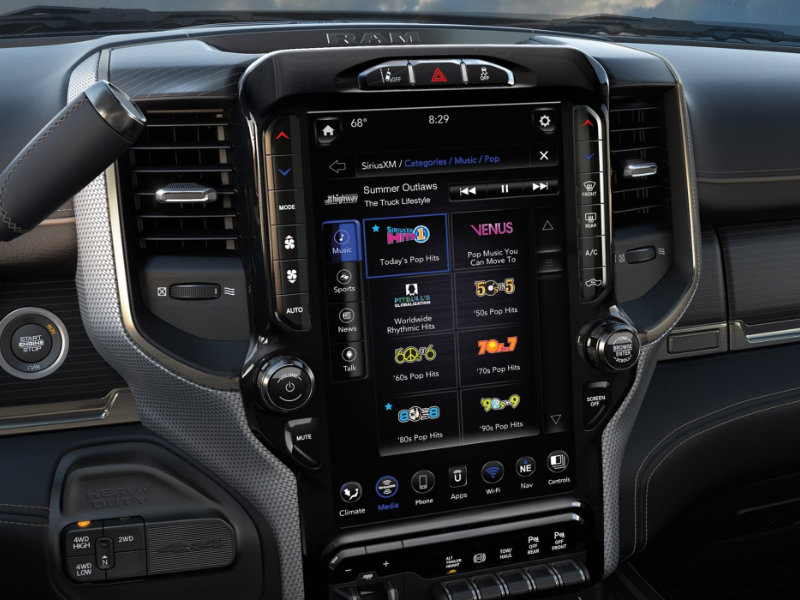 Ram 2500 Mechanical specs
Powertrain is likely the aspect of this 2021 Ram 2500 vs 2021 Chevrolet Silverado 2500 comparison about which we receive the most questions. In both cases, rear-wheel drive is standard, four-wheel drive is optional and each manufacturer has an off-road trim that is exclusively 4×4. Ram offers both a gas and diesel powertrain, and we have Melloy Ram online specials for both setups. The standard configuration pairs an eight-speed automatic transmission with a 6.4L HEMI V8 engine rated for 410 hp and 429 lb.-ft. of torque. The optional configuration pairs a six-speed automatic with a 6.7L turbo-diesel V8 rated for 370 hp and 850 lb.-ft. Options for the 2021 Chevrolet Silverado 2500 are similar. The base setup for the Silverado pairs a six-speed automatic with a 6.6L V8 rated for 401 hp and 464 lb.-ft. The turbo-diesel option is a 6.6L V8 that is paired with a 10-speed and rated for 445 hp and 910 lb.-ft. Maximum towing capacity depends on various choices you make, including engine, drivetrain and axle ratio, but the Ram 2500 can tow as much as 20,000 pounds and the Chevrolet as much as 18,500.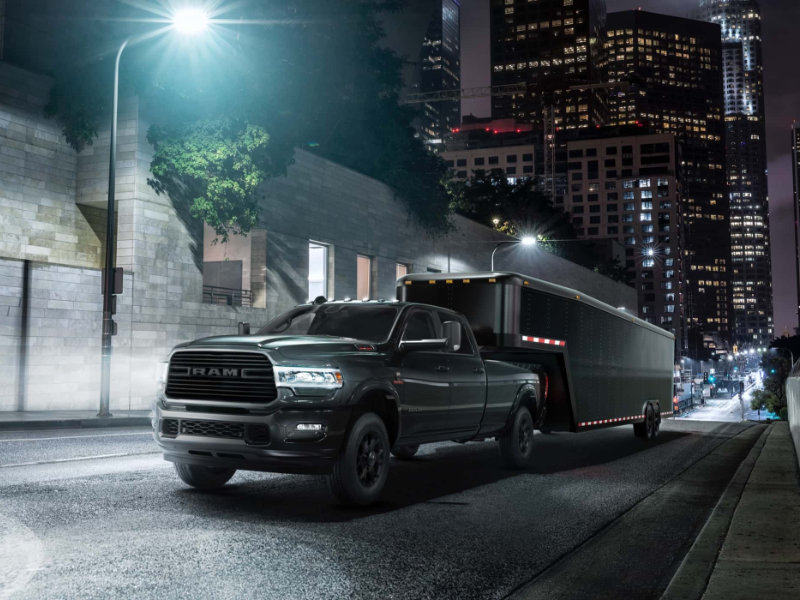 Tech – Ram Dealership serving Amarillo TX
The Ram 2500 and Ram 3500 are by far the most technologically advanced HD trucks on the market. The only model that really comes close is the Titan XD, but it is not actually an HD truck and rather occupies a strange middle ground between light duty and heavy duty. Ram gives you the option of a 12.0-inch touchscreen, which is currently the largest available in the class. An 8.0-inch touchscreen is the largest available for the 2021 Chevrolet Silverado 2500. For the 2021 model, Ram has also added an optional rearview mirror that can provide you a clear view through cargo or a trailer.
The team at Melloy Ram encourages you to visit our location to test-drive the 2021 Ram 2500, but we can also serve you online via our website. Our site lets you peruse our entire inventory and shop Melloy Ram online specials. You can compare trim levels and options, and if you need any assistance, we are available to provide via live chat as well as email and text.