New Ram 2021 Ram 3500 vs 2021 Chevrolet Silverado 3500HD – Amarillo for Sale in Albuquerque NM l Las Cruces
2021 Ram 3500 vs 2021 Chevrolet Silverado 3500HD – Amarillo


View Inventory
Ram and Chevrolet make two of the most powerful pickup trucks in the world with the Ram 3500 and the Silverado 3500HD. Ram has always managed to distinguish its trucks not just with towing and payload capacities but ride comfort and cabin design, and that is the case here with the Ram 3500. As Car and Driver magazine puts it, the Ram 3500 delivers the "best ride in the HD class" and you can "dress it to the nines," which is something that Chevrolet cannot claim. You can test-drive the new Ram 3500 today, and we have specials for Amarillo customers who want to either finance or lease.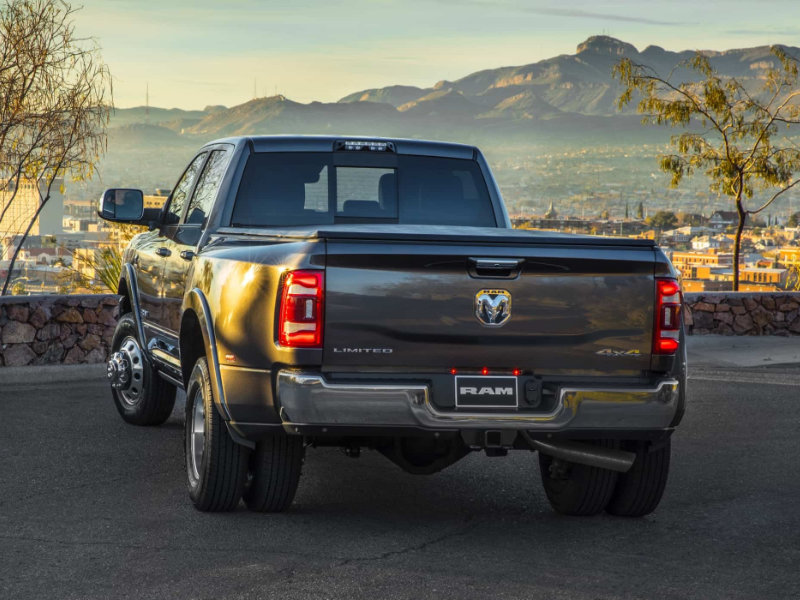 Exterior – Ram Dealer serving Amarillo TX
Cab-and-bed combinations have to be a focal point of any 2021 Ram 3500 vs 2021 Chevrolet Silverado 3500HD comparison, and perhaps unsurprisingly, both automakers offer a similar lineup. Both offer a traditional two-door cab attached to an 8-foot bed. You also have the option of a four-door extended cab, which is paired with the 8-foot bed and, optionally in the case of the Ram, with a 6-foot-4-inch bed. Both brands also make a larger extended cab. Ram pairs it with the 6-foot-4-inch bed, and Chevrolet gives you the option of either its long bed or a bed that measures about 6 feet 10 inches. Ram and Chevrolet both offer a number of exterior personalization options, such as various wheel sizes, multifunction tailgates, side steps, bed liners, cargo lighting, cargo management and so forth.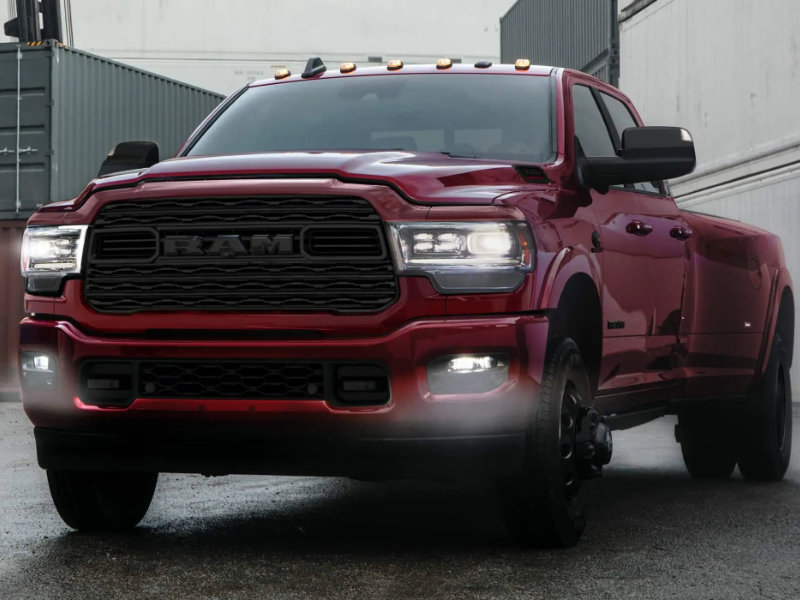 The regular cabs can seat up to three. The extended cabs can set either five or six depending on the trim level and your choice of front seating. The front seating area is similar whether you opt for a traditional or extended cab and is one of the only interior aspects where the 2021 Chevrolet Silverado 3500HD has an advantage. It offers 44.53 inches of front legroom as opposed to 40.9 inches in the Ram. The crew cabs both offer more than 43 inches of rear legroom, but the difference between the smaller extended cabs is dramatic. Ram offers 40.2 inches whereas Chevrolet manages just 35.24. As mentioned in the opener, the Ram 3500 has a significant advantage when it comes to ride comfort, and this is true even if you opt for the base Tradesman, and we offer specials to Amarillo drivers for that model. There is also a dramatic difference in the cabin quality. According to Car and Driver, the Ram 3500 excels with a clean, modern design that accentuates premium materials and is unmatched in comfort and detailing.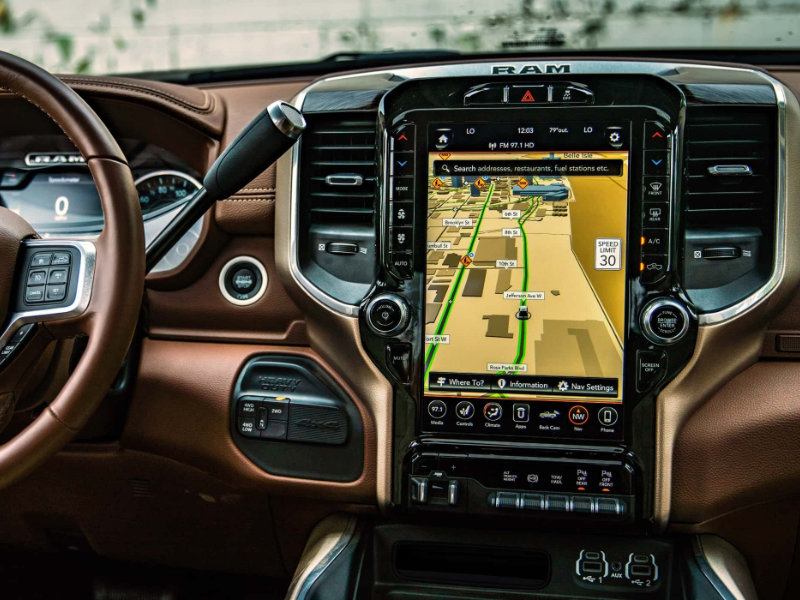 Ram 3500 Mechanical specs
Powertrain is certainly the aspect of 2021 Ram 3500 vs 2021 Chevrolet Silverado 3500HD comparisons that receive the most attention from our customers. After all, you are purchasing or leasing an HD truck to overcome specific challenges, and you have to ensure that they are up to snuff. Both vehicles are available with either a rear-wheel or four-wheel drivetrain, and both give you the option of either a gas or diesel powertrain. The standard 2021 Ram 3500 comes with an 8-speed automatic transmission mated to a 6.4L V8 HEMI engine that is rated for 410 horsepower and 429 pound-feet of torque. Our location also has specials for Amarillo residents who want a diesel engine, which is available in two configurations. The standard-output diesel engine is paired with a six-speed automatic transmission and rated for 370 hp and 850 lb.-ft. The high-output version is paired with a six-speed HD transmission and rated for 420 hp and a best-in-class 1,075 lb.-ft. The standard 2021 Chevrolet Silverado 3500HD comes with a six-speed automatic and a 6.6L V8 engine rated for 401 hp and 464 lb.-ft. You also have the option of a 10-speed paired with a 6.6L turbo-diesel V8 rated for 445 hp and 910 lb.-ft. The Ram has a max tow rating greater than 37,000 pounds, and the Silverado exceeds 36,000 pounds.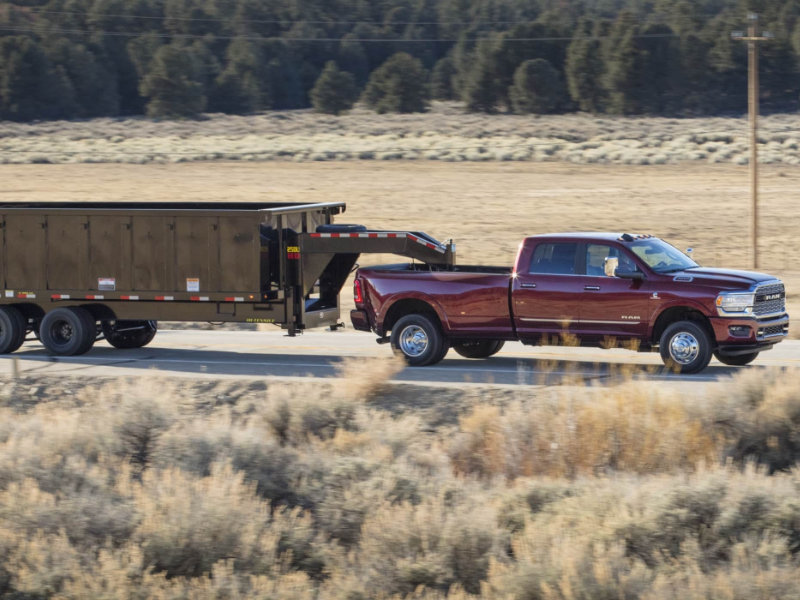 Tech – Ram Dealership serving Amarillo TX
The Ram 3500 is the most advanced truck in the segment. Ram is the only manufacturer to offer a 12.0-inch infotainment touchscreen, and we offer specials to Amarillo customers who want that upgrade. New for this model year, Ram has added a digital rearview mirror that can provide you an unobstructed view even if the actual view is blocked by a trailer or cargo in the bed. Both feature Android and Apple integration along with optional Wi-Fi hotspot, wireless charging and integrated navigation. In the default setup, the Ram comes with more USB ports and boasts three 115-volt outlets.
If you would like to test-drive the 2021 Ram 3500, you can visit our location at your convenience. You can also call for quotes and further comparison between our truck and the 2021 Chevrolet Silverado 3500HD, and we are available to you online. You can explore our current specials for Amarillo residents, and we are available via live chat to provide quotes, help with financing and much more!