New Ram Andrews TX Area – 2019 RAM 2500 Crew Cab Lease and Specials for Sale in Albuquerque, NM
Andrews TX Area -2019 RAM 2500 Crew Cab Lease and Specials
RAM 2500 Crew Cab Lease Specials and Finance Offers in Albuquerque NM near Lubbock, El Paso TX
Why Lease or buy 2019 RAM 2500 Crew Cab near Andrews TX
The RAM series of pickup trucks only continue to get better year after year, providing hard workers with a truck that works even harder. When you need the tools, RAM is there to give you one of your best ones: a 2019 RAM 2500 Crew Cab "Big Horn" model. This exceptionally rugged and handsome pickup truck knows how to do things big! And its crew cab configuration means you're getting a longer cab and wheelbase with a truck bed that's durable and pure power on payload duties. What else is new about the 2019 Big Horn crew cab?
*Not actual vehicle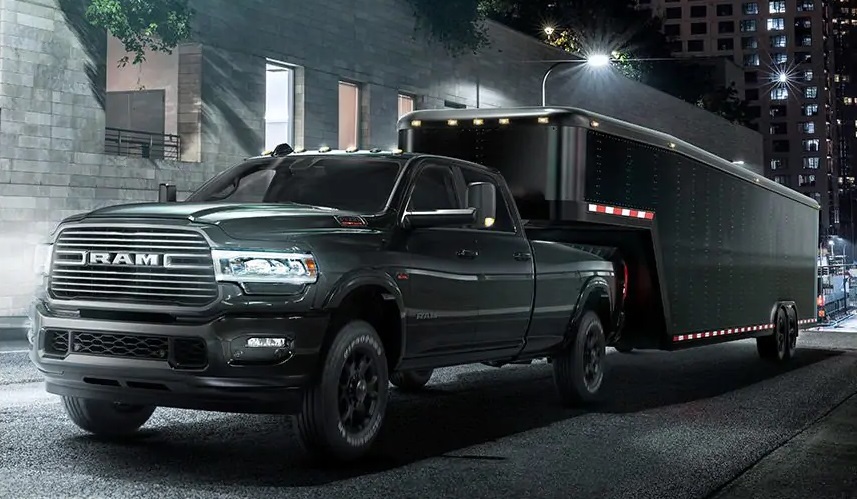 Exterior – RAM 2500 Crew Cab
The revamped grille of the 2500 is mesmerizing in every way this year, with a grille and front fascia that captures the truck's heavy duty capabilities. Its wheels and fenders spring to life in a way that lets you know you're about to command a massive skill set from this winning pickup truck. As you get to know your 2500 a little better, you'll see standout colors shine against the chromed out front grille and bumper. If you want a sharp looking truck for work or heavy duty play, this is your truck!
You'll find adaptive LED headlights this year, bold wheel choices that let you give your truck a more powerful, taller stance, and plenty of chrome accents to shine out whenever you hit the road to get everything done for the day. When you think of a "real truck," it's the RAM 2500 that should come to mind first. This has been the truck to end all trucks for many years running now, and this year is no exception.
*Not actual vehicle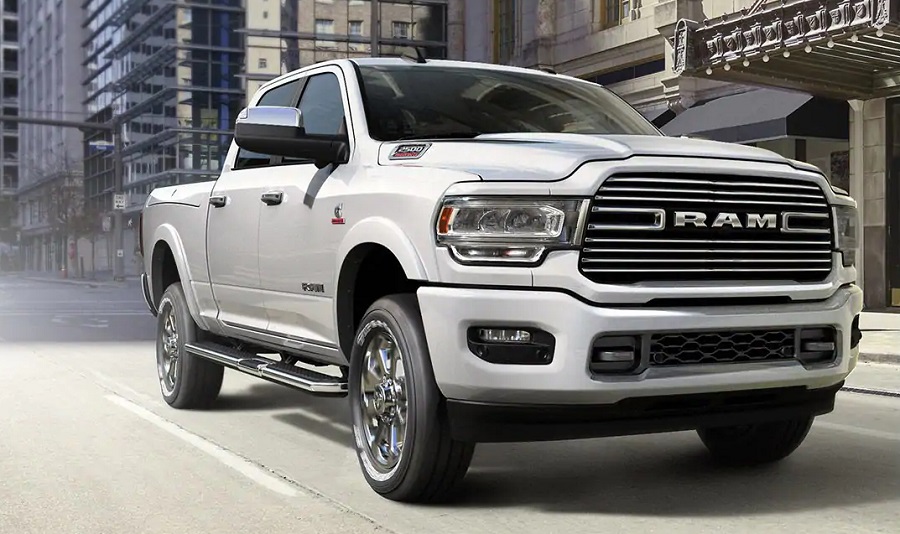 Interior – 2019 RAM 2500 Crew Cab
The gorgeous interior of the 2500 Big Horn couldn't have been any better this year. Usually, there's some room for improvement, but we don't see any way the new 2500 Big Horn could have laid out its cloth bucket seats and rugged colors any better. With a center console capable of holding an up to 15″ laptop or any of your other mobile devices, it simply shines out in terms of storage. Rear seat storage is also found under the reclining back seats, and then there's a whopping 45.1 inches of cargo capacity behind those seats, something that no other pickup truck in this class can boast. Upgraded leather options abound, too.
*Not actual vehicle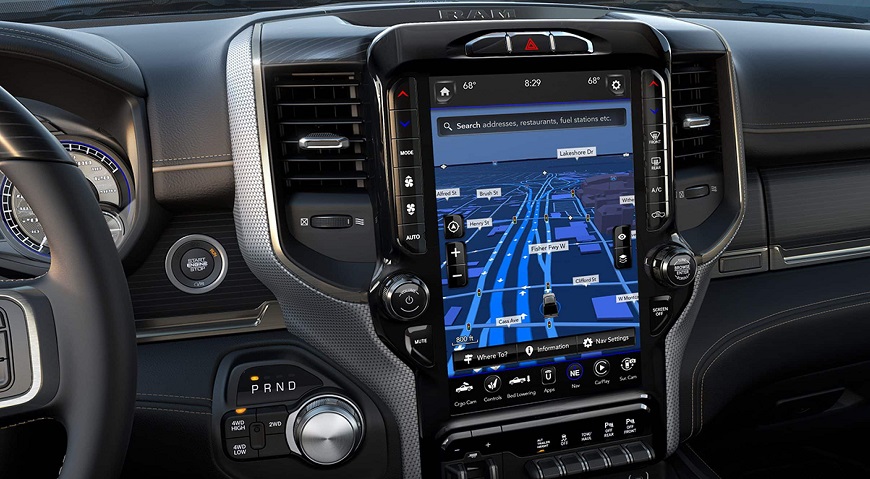 Mechanical – 2019 RAM 2500 Crew Cab
The powertrain and transmission of the 2500 are just as strong as ever. You get a super-powerful V8 engine that takes best-in-class towing this year, along with an auto-leveling rear air suspension. With a 19,780 pound towing capacity, you'll definitely benefit from the state of the art suspension system and immediately notice a divine towing experience with optimal control. Then there's the up to 410 horsepower to enjoy! Choose from a 6 or 8-speed automatic transmission. Your 6-speed will be standard, but if you take advantage of our specials, you can upgrade that to the 8-speed.
*Not actual vehicle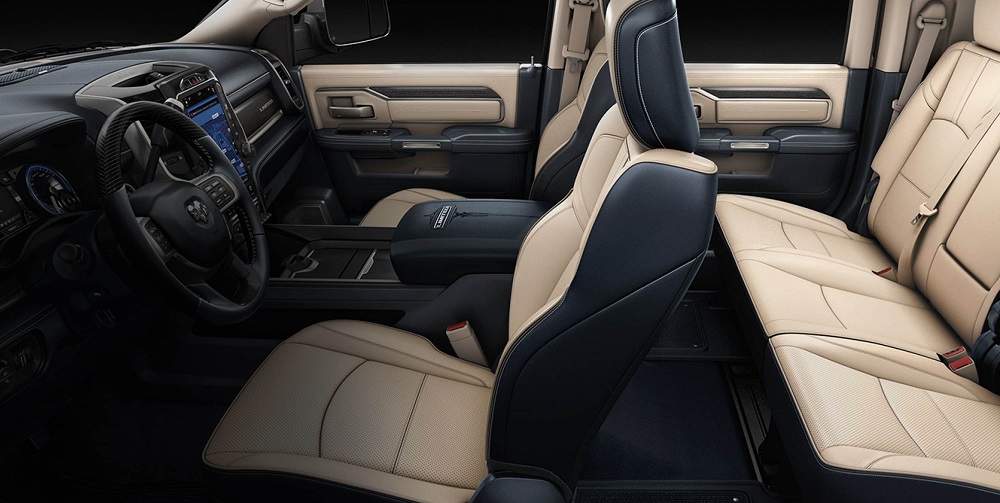 Technology & Safety – 2019 RAM 2500 Crew Cab
RAM has always crafted the interior of their trucks to be lined with technology everywhere. From your Bluetooth and WiFi connections, voice recognition, and large 12″ touchscreen UConnect infotainment system, you have a virtual universe of tech surrounding you at all times. You'll appreciate the handy charging stations they've set up to, as well as multiple apps that you can enjoy via your touchscreen. Multiple camera angles are the most in class, giving you a birds-eye view of your towing and payload capabilities. This is one truck where you can always feel in control.
Finally, we've got world class safety features all around you as well. The auto-leveling suspension will, of course, make for safer towing and hauling, but then there are driver-assist features to appreciate as well, along with an 8 airbag system to keep you safe in a crash. The steel safety cage and high strength steel construction of all RAM trucks make them among the safest in the world. This is one truck you can head out in and be confident in at all times. Thanks to lane keeping systems, driver-assist parking systems, and excellent blind spot monitoring and camera angles, you'll always be safe here, with a truck that can intelligently respond to dangerous situations and avoid accidents.
Request 2019 RAM 2500 Crew Cab Specials in Albuquerque NM near Lubbock, El Paso TX
Don't wait! We've got your 2019 RAM 2500 Big Horn crew cab on sale now and all year long. We want you to bask in the luxury of the interior, take a look at the shiny chrome on the exterior, and then make this your new heavy duty truck this year. You'll be massively thankful that you chose this old faithful, durable workhorse as your own. If you own a business, or even if you don't, we'll have the sales you need to save big bucks on the 2500. Just give us a call today to schedule a test drive of the 2019 Big Horn!
*informational purposes only, please contact dealership for full details.