Own or manage a business that relies on your company vehicles? The Melloy Dodge Commercial Department serves the commercial needs of businesses with any New or Used Vehicles you need. Call James Cassell. Auld in our Commercial Sales Team at 505-933-6822 or email  jcassell@melloydodge.com. You can also Search Commercial Inventory here. 
From Ram 2500 or 3500 trucks, cab/chassis trucks, flatbed trucks, service/utility vehicles, or dump trucks, the Melloy Dodge Commercial Sales team has the vehicles to keep your business running.
Our Commercial Department offers many financing options, even if your business has some credit issues. In the financing, we can usually include custom work (pipe racks, utility beds, etc) as well as a trailer or other equipment.
Ask about extending your company's pricing on new and used vehicles to your staff, an added employee benefit!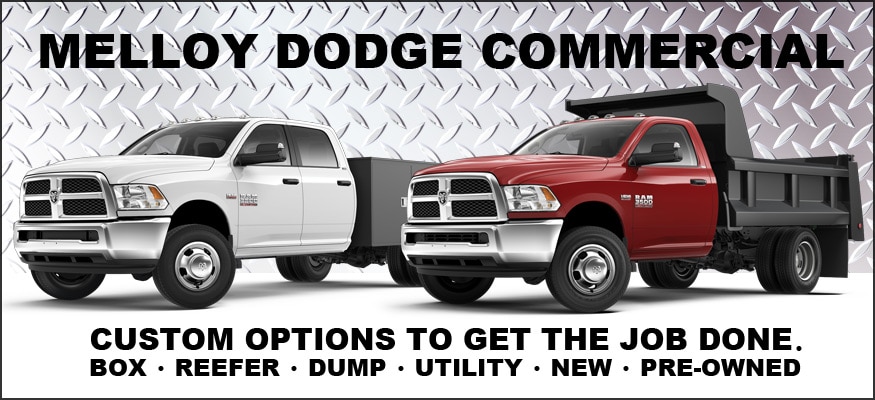 BusinessLink Advantages:
After your purchase, use our no-cost enrollment in BusinessLink  for these Commercial benefits:
-Your registered company vehicle gets serviced by the FIRST available service technician.  The "Next Bay-Up" program gets your company vehicle on the road as soon as possible.
-You get extended service hours to ensure your vehicles are returned as soon as possible.
-Enjoy 24-Hour towing to our dealership for service.
-Use our available shuttle service back to your office or worksite, or use a Free Loaner Vehicle with our Alternate Transportation Program.  Get a loaner vehicle at no cost when your eligible vehicle is in for repair during normal warranty period (3 years or 36,000 miles).
-Your dedicated BusinessLink Account Manager will expedite anything your company might need. 
It's Free! Sign up today  to start taking advantage of what BusinessLink has to offer!