New Dodge 2019 Dodge Durango vs 2019 Ford Explorer – Albuquerque NM for Sale in Albuquerque, NM
2019 Dodge Durango vs 2019 Ford Explorer – Albuquerque NM
View Inventory


Vehicle Overview
Only at Melloy Dodge, a premium dealership in Albuquerque New Mexico, can you try out the 2019 Dodge Durango and learn from a knowledgeable staff what makes the Durango stand out from the crowd. We can tell you many great qualities that the Durango offers, including distinctive styling, a tech-savvy and versatile interior, and exceptional power. In addition to making you a satisfied customer, these features set the Durango apart from its competitors. Among them is the Ford Explorer. While the two vehicles belong to the same class of SUVs, you'll see why the Durango takes the lead when you compare the 2019 Dodge Durango vs 2019 Ford Explorer in person. We encourage you to call or set up a test drive through our website today to learn more about the Durango and take one for a spin. If you want a glimpse of the areas in which it surpasses the Explorer, here's a preview.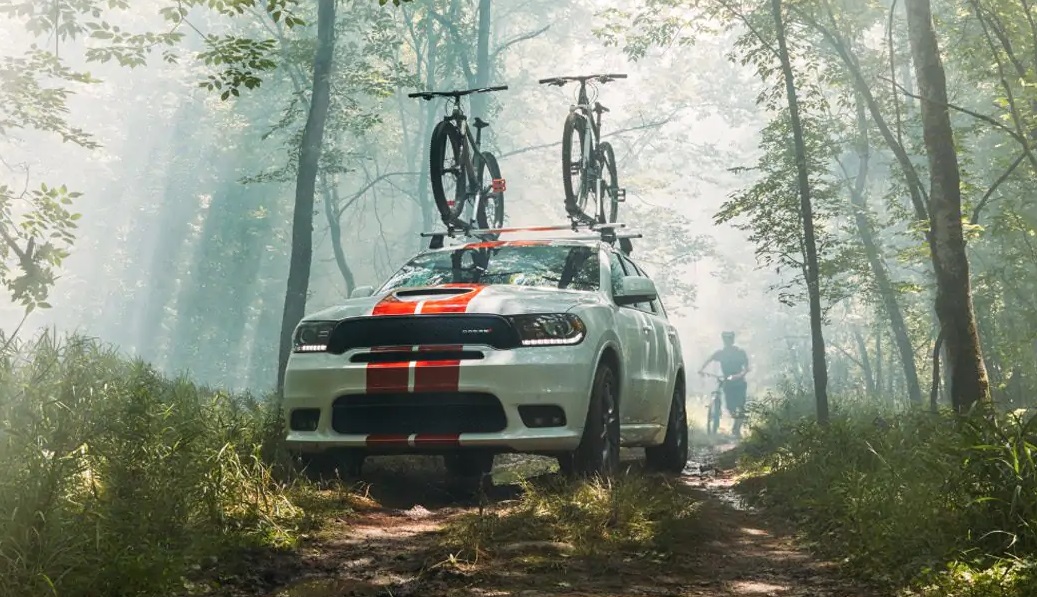 Exterior – 2019 Dodge Durango
The 2019 Durango is a big car with an even bigger personality. The Dodge Durango owes its memorable appearance to a combination of sheer size and aesthetic details. The Durango is a three-row SUV with an equally athletic and sophisticated appearance. In both the front and back ends, the Durango is equipped with bold custom-designed LED lights. The lights are arranged in a special racetrack taillamp style in the back, which is a signature trait borrowed from Dodge's classic muscle cars. All trim levels of the Durango get projector-style headlights and available LED lamps. Fog lights are also optional. Collectively, these lighting elements improve the Durango's aesthetics and increase visibility in low light conditions. Whether you choose bright or dark accents, the crosshair-style grille is one of the most unique elements in the Durango's front end.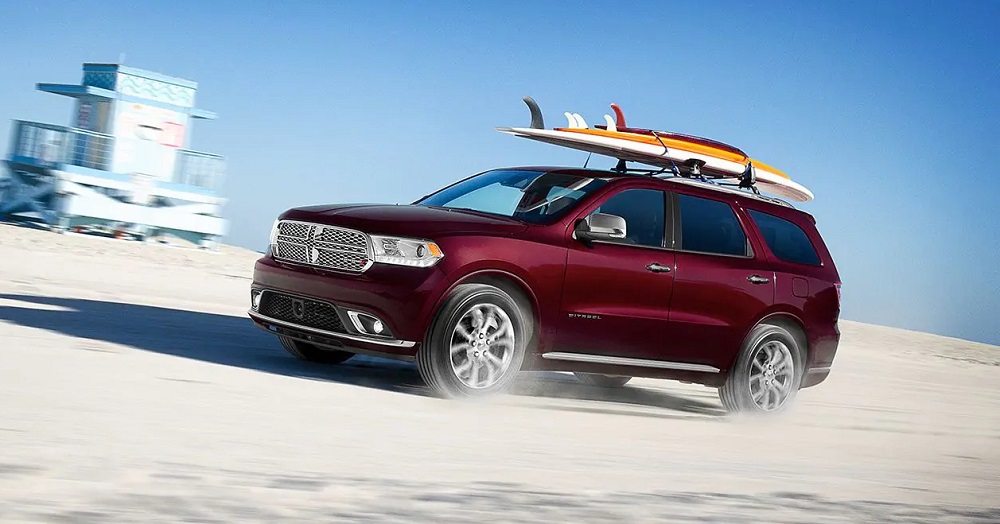 Interior – 2019 Dodge Durango in Albuquerque NM
If you're an indecisive driver, the 2109 Durango is a good vehicle to have. The Durango has over 50 different seating configurations, which means there are always plenty of options for versatility. With three rows of seats, the Durango can comfortably seat up to seven passengers. If you need to make more room for passengers or luggage, the choice is simple with the Durango's flexible interior. The captain's chairs have a tumble and fold design that lets you tuck them away to maximize space and enable second-row occupants to reach the third row. You can also choose to have a bench-style seat in the third row with seats that fold flat to create additional room. Perforated leather seats add elegance and comfort to the Durango's interior, while a USB charging port and a 115V power outlet in the second row are a welcome convenience among back-row passengers. In the front row, comfort for the driver and passenger is maximized with available ventilated and heated seats.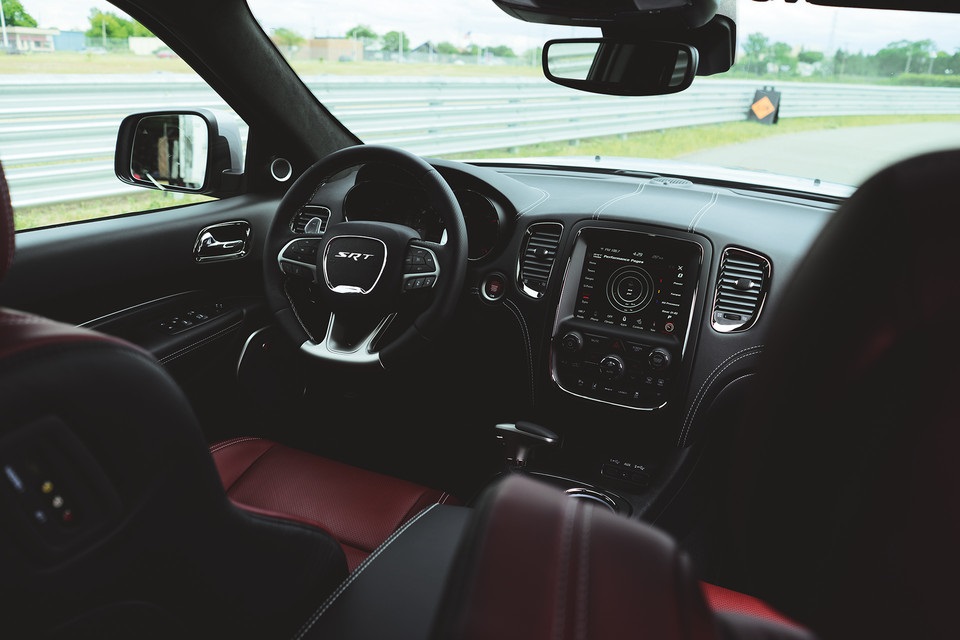 Mechanical – Durango specs in Albuquerque
There are several engines available in the 2019 Durango that vary in efficiency and output. The base engine is a 3.6L, six-cylinder that produces up to 295 HP at 6,400 RPM. At the base level, the Durango can tow a maximum of 6,200 pounds. The mid-level engine is a stronger and more powerful V8 engine. This engine, which has a 5.7L capacity, has a maximum power output of 360 HP. With this engine under its hood, the Durango can pull up to 7,400 pounds. Third, but certainly not least, is the 6.4L V8 engine. This engine increases the Durango's towing capacity to a "Best-in-Class" of 8,700 pounds. The Durango's premium engine churns out an impressive total of 475 HP and 470 LB-FT of torque. The 2019 Ford Explorer also comes with three engines. However, its base engine only generates 280 HP. That number increases to 290 HP with the mid-level engine. Even at the top level, the Explorer's engine falls short of the Durango's maximum power with a peak HP of 365.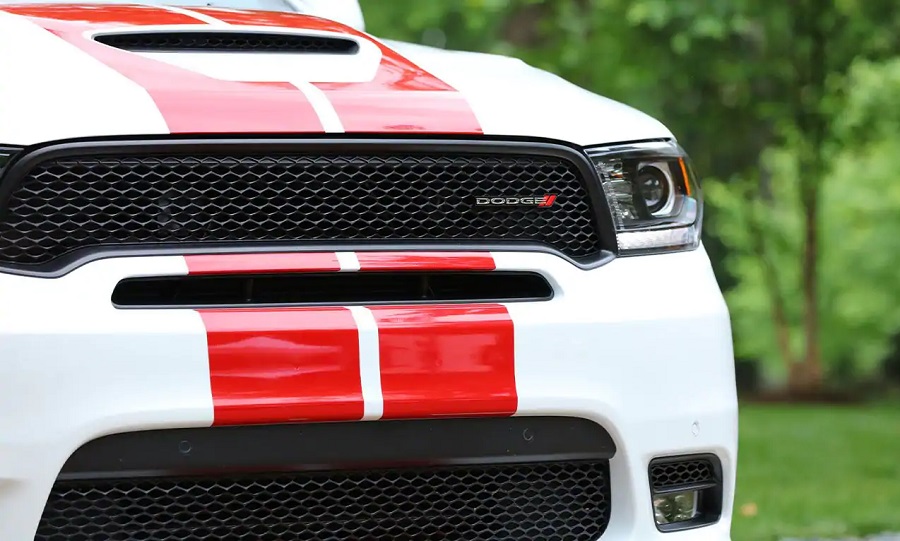 Safety – 2019 Dodge Durango dealer
With a plethora of safety features, the Durango is designed to keep you and your passengers safe, regardless of whether you're cruising down the highway or exploring off road in Albuquerque New Mexico. In a big SUV like the Durango, you naturally appreciate having some help parking. Fortunately, you'll get that in the 2019 Dodge Durango with parking sensors in the front and back. When you want to sit back and relax, adaptive cruise control takes the stress and guesswork out of maintaining a safe following distance with the car in front.
If you want to try out the 2019 Durango, don't hesitate to contact the friendly and helpful staff at Melloy Dodge. We are here to answer your questions and show you how the Durango wins in the battle of 2019 Dodge Durango vs 2019 Ford Explorer. Call or send us a request online to try out both SUVs and see how they compare for yourself.