New Dodge 2019 Dodge Durango vs 2019 Ford Explorer in Albuquerque New Mexico for Sale in Albuquerque, NM
2019 Dodge Durango vs 2019 Ford Explorer in Albuquerque New Mexico
View Inventory


Vehicle Overview
Three-row crossovers have become some of the most popular family vehicles on the market. While the segment gives you several good options to choose from, the 2019 Dodge Durango stands out in all of the most important categories. Not only is the new Durango safe and spacious, but it also comes loaded with family-friendly features. Class-leading performance capabilities give you more reason to love the new Durango. Of course, you can't forget about the Durango's muscular styling. Despite the Durango's great qualities, some people may be considered the new 2019 Ford Explorer. In this 2019 Dodge Durango vs 2019 Ford Explorer comparison, we'll find out which SUV is the better choice.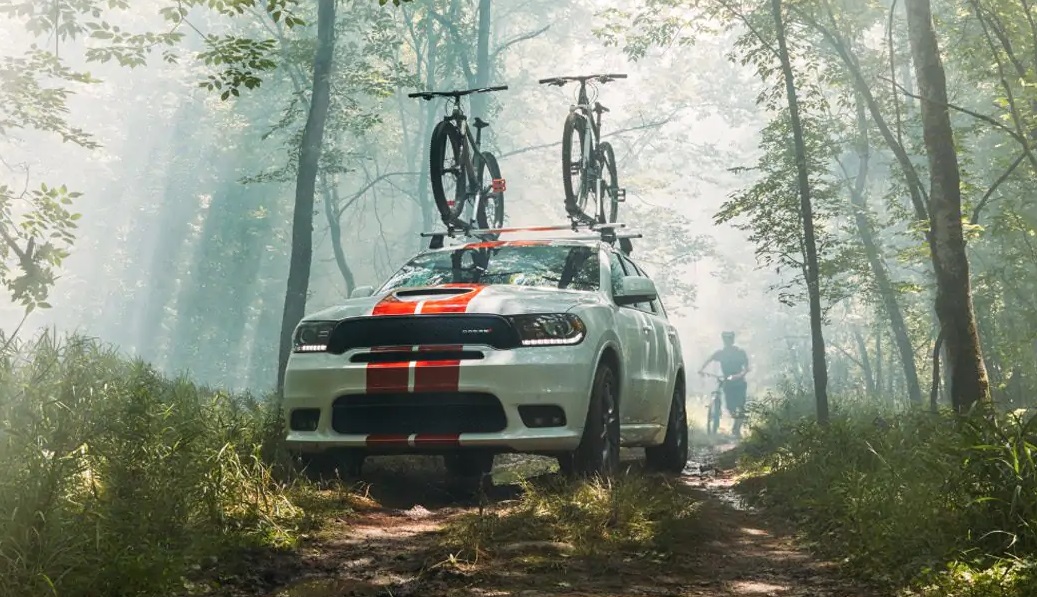 Exterior – 2019 Dodge Durango
Although the Dodge Durango is built to reward families with everyday comfort, it's still remarkably fun to drive. In terms of road handling, the Durango is a notch ahead of Ford Explorer. An adaptive performance suspension enables the Durango SRT to rival the handling of a muscle car. Drivers also love the Durango SRT's high-performance exhaust system, which isn't offered on the Ford Explorer. As soon as you step on the accelerator, expect to hear an aggressive rumble. An exclusive Dodge Performance Pages app is also available on the new Durango. When using Dodge Performance Pages, you'll be able to quickly access information like 0-60 mph times and oil temperature.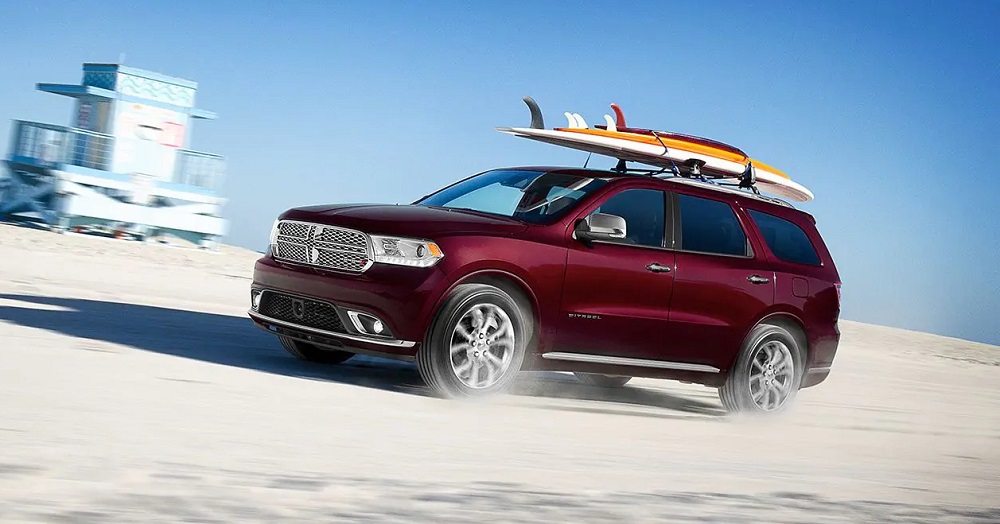 Interior – 2019 Dodge Durango in Albuquerque New Mexico
The 2019 Ford Explorer is a nice-looking vehicle. However, it does not turn heads like the new Dodge Durango. Although the Durango offers the versatility of a SUV, there's no overlooking its muscle car-like stance and signature crosshair grille. LED racetrack taillights add to the Durango's iconic styling. Projector headlights and fog lights come standard. Some of the striking Durango colors include Octane Red Pearlcoat, Destroyer Gray Clearcoat, White Knuckle Clearcoat, and Reactor Blue Pearlcoat.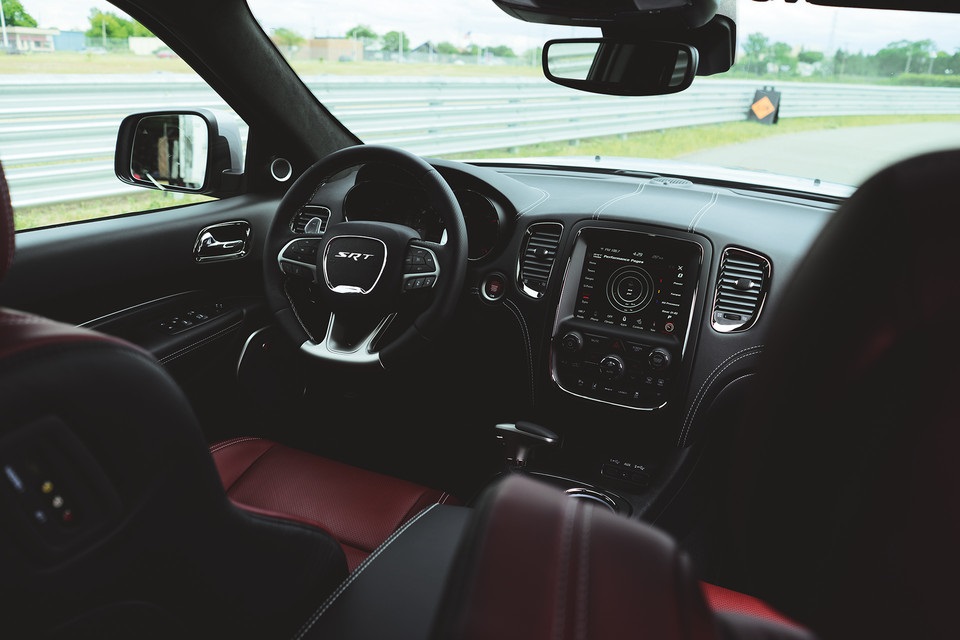 Mechanical – Durango specs in Albuquerque
Both of these SUVs come standard with a solid V6 engine. However, the Durango's Pentastar V6 engine develops a bit more power. It's rated to develop 295 horsepower and 260 horsepower. You can have even more fun by upgrading to one of the Durango's available Hemi V8 engines. Dodge tuned the 5.7L Hemi engine to develop 360 horsepower and 390 pound-feet of torque. Look forward to experiencing especially strong acceleration. To enjoy the maximum performance, step up to the race-bred Durango SRT. Under its hoods rests a larger 6.4L Hemi engine, which pounds out a thrilling 475 horsepower and 470 pound-feet of torque. A 0-60 mph sprint of 4.5 seconds puts the Durango SRT among the quickest three-row SUVs in the country. With a total of 365 horsepower on tap, the Ford Explorer Sport simply can't compete.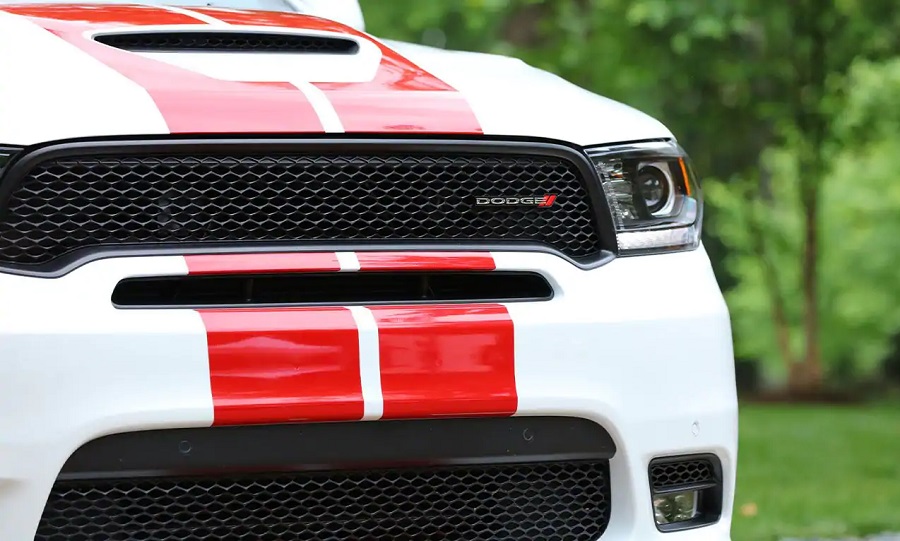 Powertrain – Dodge Durango specs in Albuquerque New Mexico
Aside from packing more power, the 2019 Dodge Durango also boasts a higher towing capacity. A load-leveling rear suspension comes standard on the Durango. You can use the SUV's muscle to pull up to 8,700 pounds. Ford rates the Explorer to tow up to 5,000 pounds, which is not nearly as impressive. If you wish to test drive the new Durango, stop by your local Dodge dealer in Albuquerque New Mexico.
Safety – 2019 Dodge Durango dealer
You can trust these SUVs to keep your family safe. However, the 2019 Dodge Durango has a few advantages. Only the Durango comes standard with Rain Brake Support. This feature enhances safety by helping to keep your brake pads dry. When making emergency stops during wet conditions, you'll definitely appreciate the extra peace of mind. Furthermore, every new Durango can be equipped with blind-spot monitoring. When activated, blind-spot monitoring warns you of unnoticed vehicles in the next lane. You can't get this valuable safety innovation on the base Ford Explorer.
As you can see in this 2019 Dodge Durango vs 2019 Ford Explorer comparison, the Durango comes out ahead in the most categories. Muscular styling, an unmatched fun factor, and a plush interior make it hard to beat. If you want to schedule a test drive or desire information on the available incentives, contact your local Dodge dealer.