New RAM 2019 RAM 1500 vs 2019 Chevrolet Silverado – Albuquerque NM for Sale in Albuquerque, NM
2019 RAM 1500 vs 2019 Chevrolet Silverado – Albuquerque NM
View Inventory


Vehicle Overview
Melloy RAM is excited to welcome the 2019 RAM 1500 to our hallowed dealership halls this year, and we'd like to encourage you to compare this truck to the 2019 Chevrolet Silverado if you're getting a wandering eye toward the Chevy. Why? Well, we just believe that the 2019 RAM 1500 is going to blow the Silverado away in a competition that focuses on interior quality and old-fashioned basics like cargo configurations, and a lot of the customers at Melloy RAM are looking for just these very amenities. The 1500 comes in a variety of trims – Rebel, Limited, And Laramie Longhorn Edition – and was recently named Truck Trend Truck of the Year in 2019. It has plenty for you to love.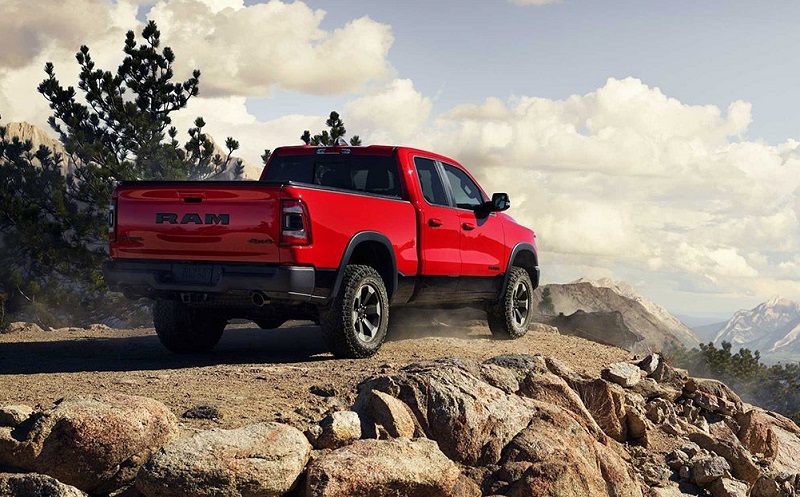 Exterior – 2019 RAM 1500
The pick-up truck of recent years has tended to ignore the fancy gadgets that are now commonplace in even economy sedans, and we think this is a shame. That's why we're pleased to tell you that the RAM 1500 is going to include a massive 12-inch UConnect color touchscreen to serve as your command center. And RAM has chosen to implement this in a way that works well with the main duties of the truck. Not only will you get stellar entertainment on that big screen, but RAM has employed the touchscreen in a way that's going to make towing and hauling easier than ever before. It's the eyes and ears of your RAM, and we're displeased that the Silverado went with a much smaller 8″ Chevy MyLink configuration. Granted, that's still impressive, but it's nothing like the tech center of the RAM.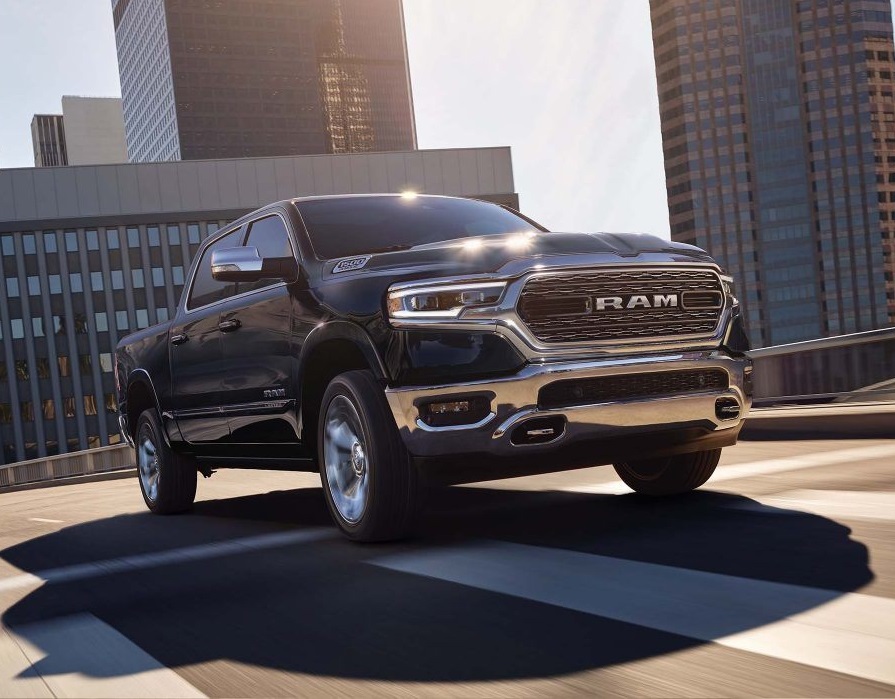 Interior – 2019 RAM 1500 in Albuquerque NM
The Silverado isn't a shabby truck on the interior. We admit that. You're going to get one of the best interiors in this class. Unfortunately for the Silverado, nothing quite outdoes the RAM 1500 in this class. It is the standard for interior luxury. Granted, the base model doesn't start off as thrilling as the rest of the trims, but by the time you get to the Limited, you've got a truck interior that could walk side by side with any luxury sedan or SUV in today's modern age. You get real wood accents, a huge touchscreen dash, and even heated rear seats (wow). It's a beautiful interior, and we're certain that when you get down here to test drive this one, you're going to agree.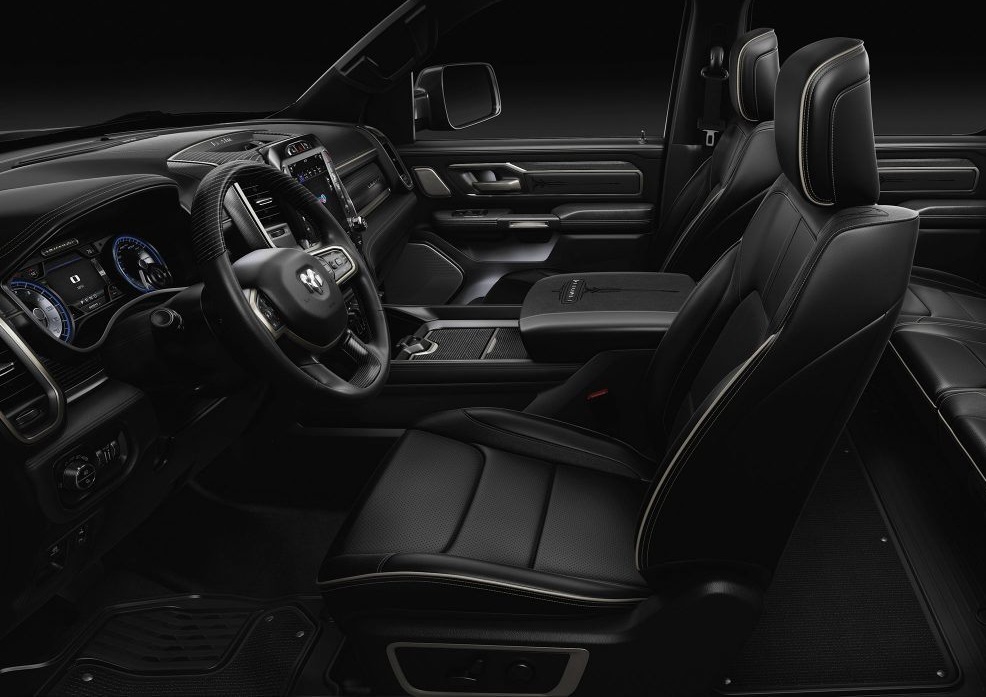 Cargo – 1500 specs in Albuquerque
The Silverado features 12 fixed bed tie-downs, which isn't so shabby, but the 1500 is going to feature the revolutionary RamBox Cargo Management System. This box is really something to behold and gives hard workers an additional storage space for their smaller tools and other items. You just won't find that on the Silverado, and we truly believe that for light duty truck owners, you need this type of rough and tumble storage system to make your work day, or play day, just a little lighter on the duties. It's simple to secure all of your tools as well, thanks to RAM's always rugged designs. If you plan to hit the road for a day of play or work in Albuquerque New Mexico, you really need RAM's Cargo Management System to make your life easier.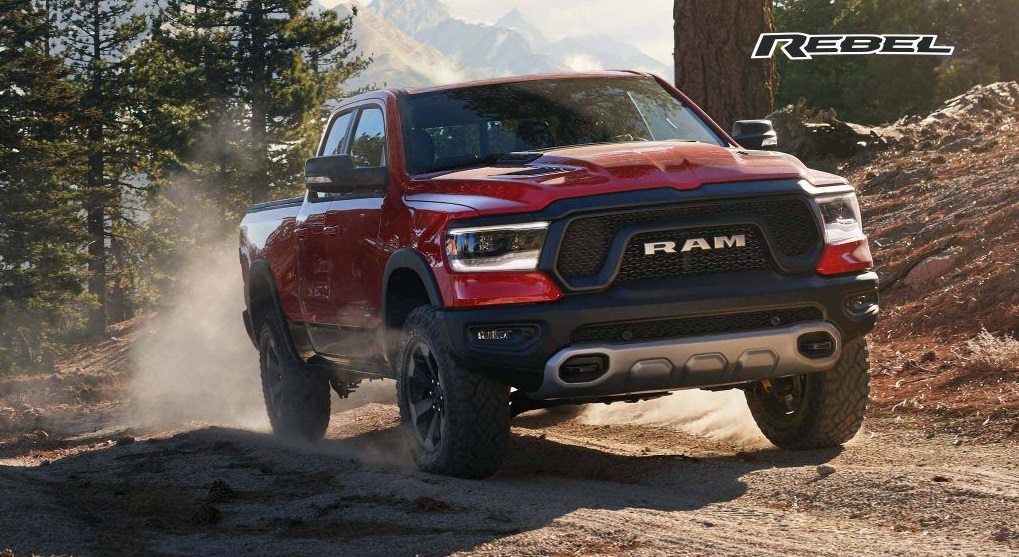 Results – RAM 1500 specs in Albuquerque NM
The RAM 1500 is a supreme machine in 2019. It features Active-level four corner air suspension that helps to propel its best-in-class V8 towing (12,750 pounds!) and a max payload of 2,300 pounds. You won't get anywhere near that with the Silverado, but that's just the beginning of the winning battle for the 1500. You also get a world-class interior that makes you feel like you're starting off your rough and rugged workday in a luxury sedan, with premium interior materials and a huge 12″ UConnect color touchscreen that not only looks beautiful but is functional when used in conjunction with your toughest towing and hauling jobs. And then there's the 1500's eTorque mild hybrid system that makes everything about its performance top notch. Three big engine choices for the RAM 1500 – two 5.7L HEMI V8 engines (395 horsepower) and 3.6L Pentastar V6 engine (305 horsepower). Throw in between 269 lbs-ft of torque and a whopping 410 lbs-ft of torque, and you've got a 1500 that can't be beat, not even by the formidable Silverado.
Test Drive – 2019 RAM 1500 dealer
We have great specials going on all the time on popular trucks like the RAM 1500, and we'd love to help you make this your next truck. It's a luxury interior, high-strength steel frame exterior, and packed with technology that helps make your light duty work day easier than ever before. When you grab the RAM 1500, you're getting a best-in-class truck in so many different categories, and it's an award winning light duty pickup that features so many options for you to choose from that you might even need our help to narrow things out! If you're interested in test driving, just give us a call here today. We'll be happy to take you out on the road with this legendary pick-up.