New Dodge Odessa Area – 2021 Dodge Durango vs 2021 Ford Explorer for Sale in Albuquerque NM l Las Cruces
Odessa Area – 2021 Dodge Durango vs 2021 Ford Explorer
View Inventory


Dodge is bringing in a whole new era of muscle this year, but one member of their pack isn't sporting a sedan style. It's the 2021 Dodge Durango, maybe the only example of a muscle SUV done right. Its wide body look, sleek black grille, and family-friendly features are all poised to outdo the 2021 Ford Explorer this year. And thanks to a very special trim with an over 700 horsepower engine, the Explorer is in real trouble early on. Our 2021 Dodge Durango vs 2021 Ford Explorer comparison review is available to those of you out there looking for a new SUV. Which one of these is going to make your family – or just you – the happiest?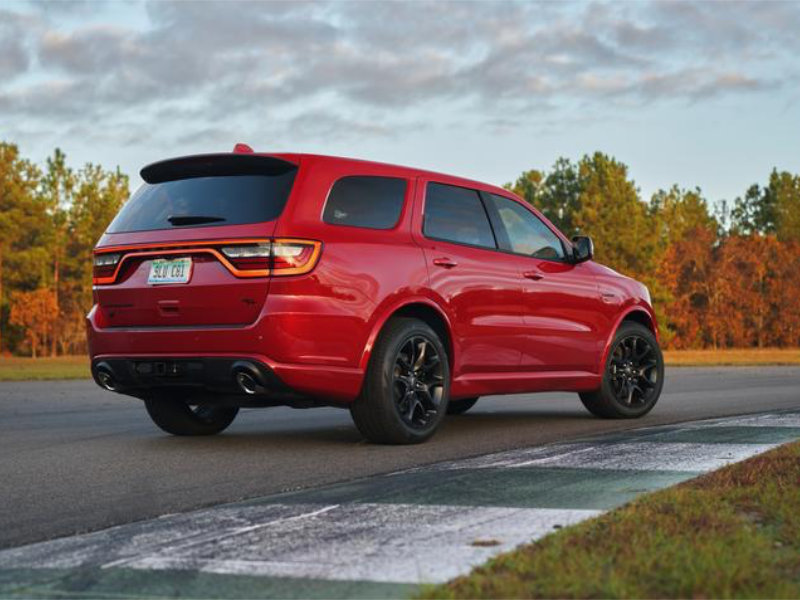 Exterior – Dodge Dealer serving Odessa TX
Both of these SUVs are stylish. The Explorer has some nice exterior features and Ford loyalists would be okay with it. However, if you're not looking at brand name, even Ford loyalists would quickly switch to the Durango. The Dodge widebody is an icon in America. It remains one of the most endearing designs of all time, stretching out those shoulders of your vehicle and giving you a superstar wrestler stance. The Durango's deep tinted windows, less blocky mid-section (Ford has done some strange things to their Explorer's windows this year), and tidy, smaller LED headlamps and taillamps all make the Durango a winner in this category. We're not saying the Explorer looks bad. It doesn't. No one would be ashamed to be seen in one. However, for that deep down family pride you get while rolling in a tough, luxurious SUV, you'd want to grab the Durango. And if you're buying an SRT, you might want to start selling tickets to your friends. They're going to want to come along.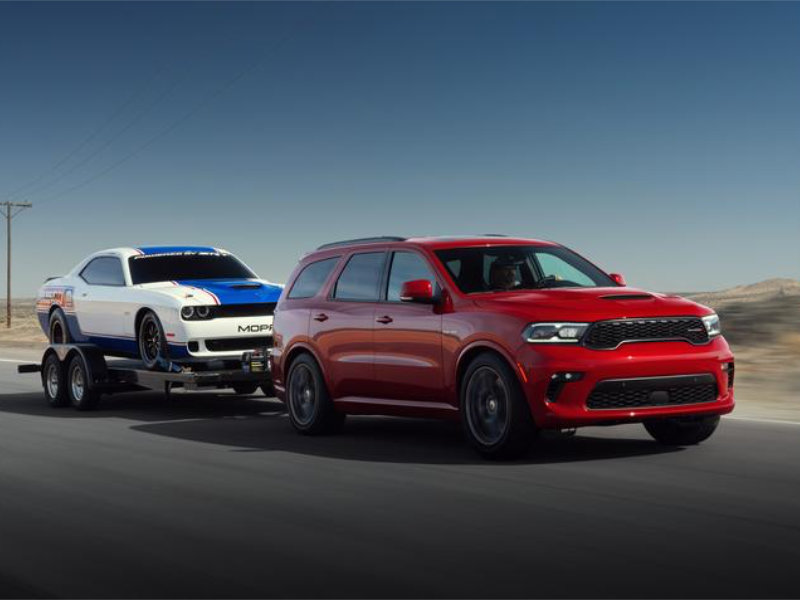 The Durango's interior offers more than the Explorer's. A performance shifter is available that lets you bring the heat of the racetrack right to your family SUV. You'll never get bored driving this one. And thanks to a unique new design, everything is slanted for the driver this year, including the larger touchscreen infotainment system the Durango is sporting in 2021. This slant really improves performance in terms of being able to quickly scan through your apps and find what you're looking for. Don't feel like looking? Just use voice commands in your Durango to pull up your directions, music, or contacts. The driver also gets a luxurious 12-way power driver seat (compared to an 8-way on the Ford Explorer Platinum). While the Explorer is no slouch on interior style and comfort, we believe the Durango will appeal to more families. Its thirst for adventure and driver-oriented design just makes it a driver's daydream.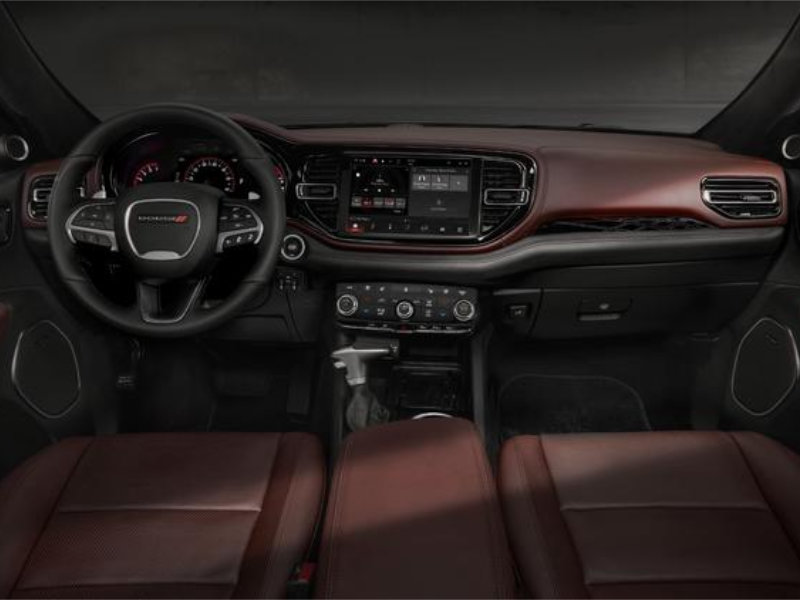 Dodge Durango Mechanical specs
For most people, the comparison begins and ends here before you make your decision. If you want a cranked up SUV with as much horsepower as possible, the 2021 Durango is the easy choice. The Durango SRT has a 6.2L HEMI SRT Hellcat V8 engine that's trucking along with 710 horsepower and 645 lb-ft of torque. Before the 2021 Ford Explorer even knows there's a competition going on here, it's left behind. Its strongest engine is stalled at 400 horsepower, a far cry from what people have available on the 2021 Dodge Durango. As a result of this engine, you'll have a long line of off-road adventures ahead of you and plenty of power to get through stormy weather. You'll also appreciate the towing performance of the Durango. Its 8,700 pound towing capacity just on its SRT 392 trim. You can get more equipment and even go beyond that if you'd like. The sky is the limit with the Durango SRT (and with out Melloy Dodge lowest price).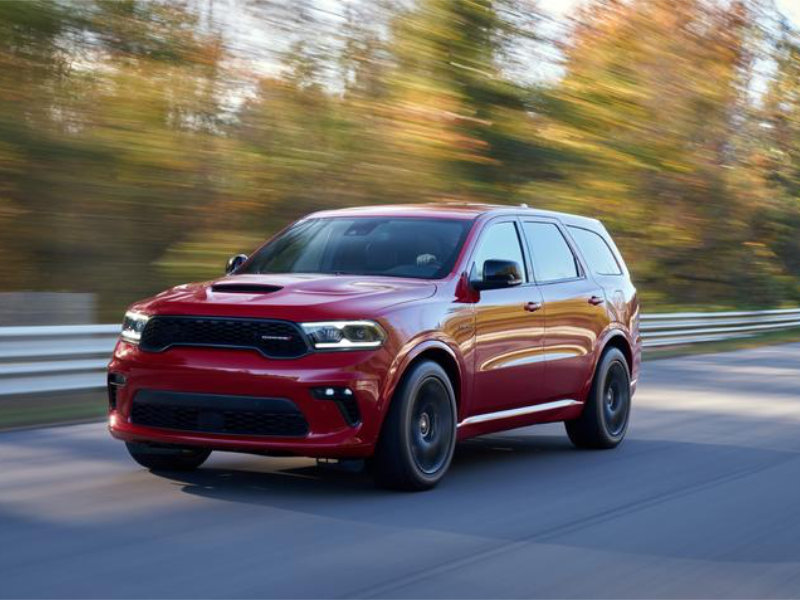 Winner – 2021 Dodge Durango dealer
The 2021 Durango is everything it could possibly have been. Dodge nailed its intentions here. It features a trim that gives you a muscle car performance – 710 horsepower – and then a wide variety of trims to give you the ability to pick and choose which features matter to you. And those Mopar racing stripes are always going to give it an edge over the Ford Explorer. Your Explorer for its part is a practical SUV with a few niceties that are worth mentioning. However, it will never have the spirit and energy of a Durango. We've got the best price in Odessa on this one.
Get the best price in Odessa today on a new 2021 Durango. Our Melloy Dodge lowest price is your ticket to widebody style and high-powered performance. Please contact us if you have any questions about the Durango's feature or anything else. Our team will be happy to help you.