New RAM Review 2019 Ram 1500 vs 2019 Toyota Tundra – Albuquerque NM for Sale in Albuquerque NM l Las Cruces
Review 2019 Ram 1500 vs 2019 Toyota Tundra – Albuquerque NM
View Inventory


Vehicle Overview
In a 2019 RAM 1500 vs 2019 Toyota Tundra comparison, which one is the winner? This year's Ram truck is all new. The latest Ram generation has raised its profile with more for all types of pickup buyers. Shoppers will find greater fuel efficiency, higher cargo ratings, updated technologies and an above-class ride quality on the Ram.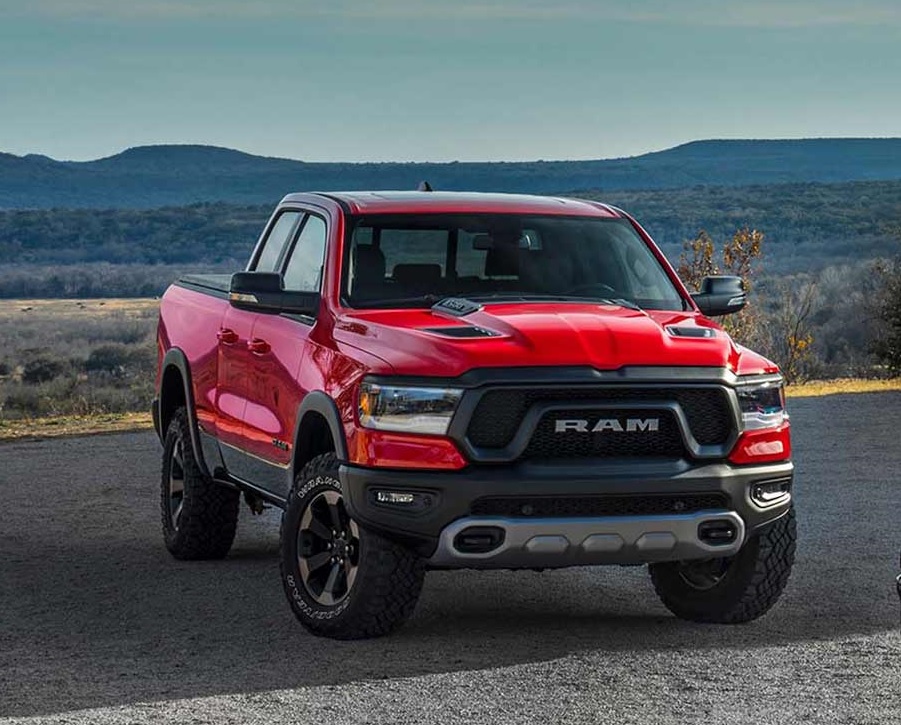 Exterior – 2019 RAM 1500
If ratings mean anything, they mean more when they come from multiple sources. Auto critic Edmunds ranks the Ram 1500 as number one. So do the critics at U.S. News and World Report. Motor Trend has named it Truck of the Year for 2019. When it comes to safety, the 2019 Ram 1500 has earned all five stars from the National Highway Traffic Safety Administration. The 2019 Toyota Tundra earns only four stars.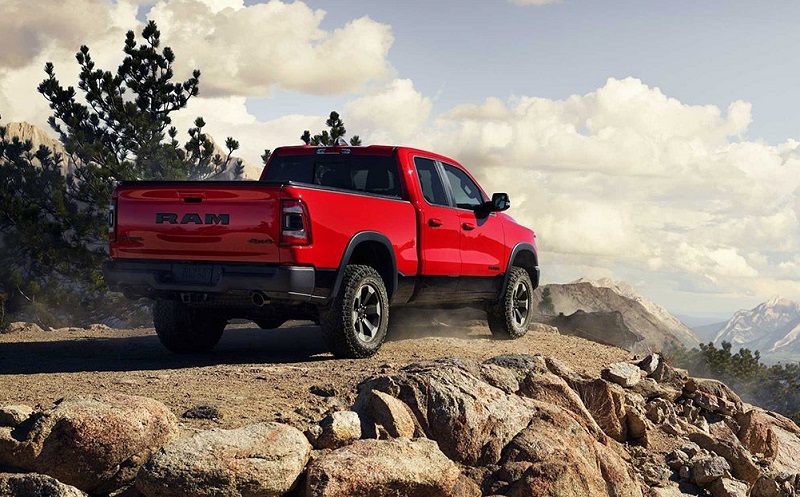 Interior – 2019 RAM 1500 in Albuquerque NM
Typically trucks start out with a lower material quality, but Ram surprises critics by having high quality materials even in its base cabin. Furthermore, Ram has put much time and energy into sound-proofing the cabin, making it quieter than the typical Tundra. Next, Ram is the only truck to use a coil spring rear suspension. Year after year, critics have noted that this suspension gives Ram a superior ride quality. Ram's higher trims are ready to challenge the Tundra's. Ram's dashboard has real wood for accents. Leather seating is matched by more leather accents in the Ram 1500 than in a comparable Tundra. Ram and Toyota utilize similar tech systems for entertainment. Both dashboards have touch screen with Bluetooth audio and hands-free functions. However, Ram has added Apple CarPlay and Android Auto. These two connectivity features are not yet on the Tundra's Entune menu. The 2019 Ram 1500 is offering a 12-inch entertainment touch screen. This vertical display has a tablet-like operation that is easy to see and easy to use. The screen splits to show multiple functions. To see this system in action, visit your Albuquerque RAM dealer.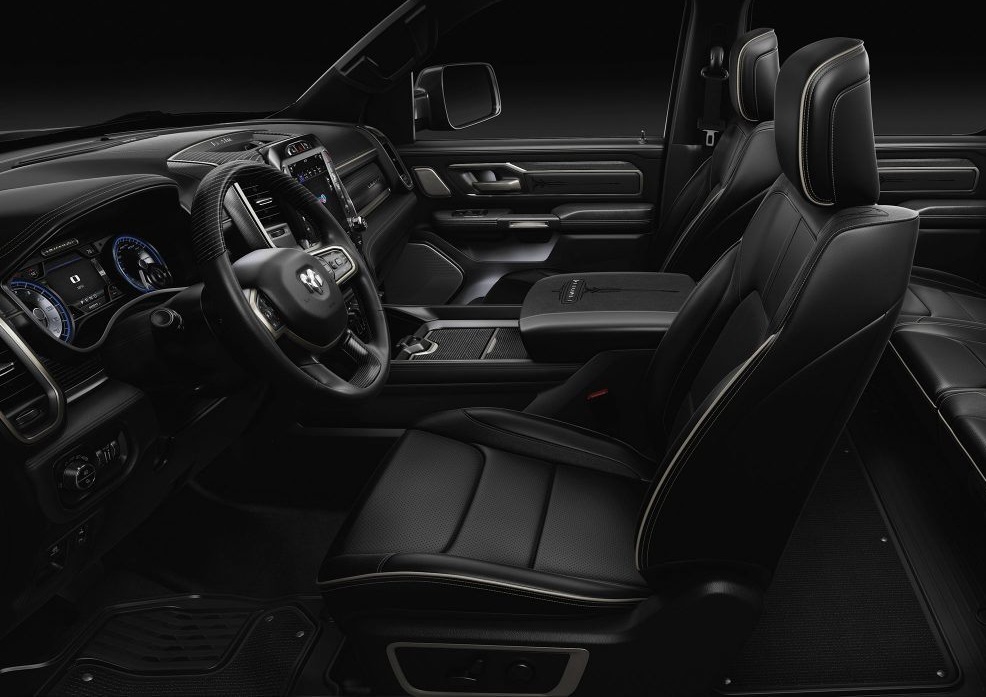 Mechanical – 1500 specs in Albuquerque
The 2019 Toyota Tundra offers two V8s. The first generates 310 horsepower. This compares favorably with the thrifty Ram V6 which generates 305 horsepower. Ram's 5.7-liter engine generates 385 horsepower, slightly ahead of the Tundra's 5.7-liter V8, which generates 381 horsepower. Toyota V-8s are traditional gasoline engines. Making full use of today's technologies, Ram has adopted mild hybrid technology to help their engines do more. The V-6 has a starter-generator and a special .53 KW battery. These work together to reduce fuel dependency and increase capability. Ram's traditional V8 now benefits from its own eTorque system. With this, it can boost its 410 lb-ft of torque by another 130 lb-ft when launching. This helps the truck move quickly and gives it more push when pulling a heavy load.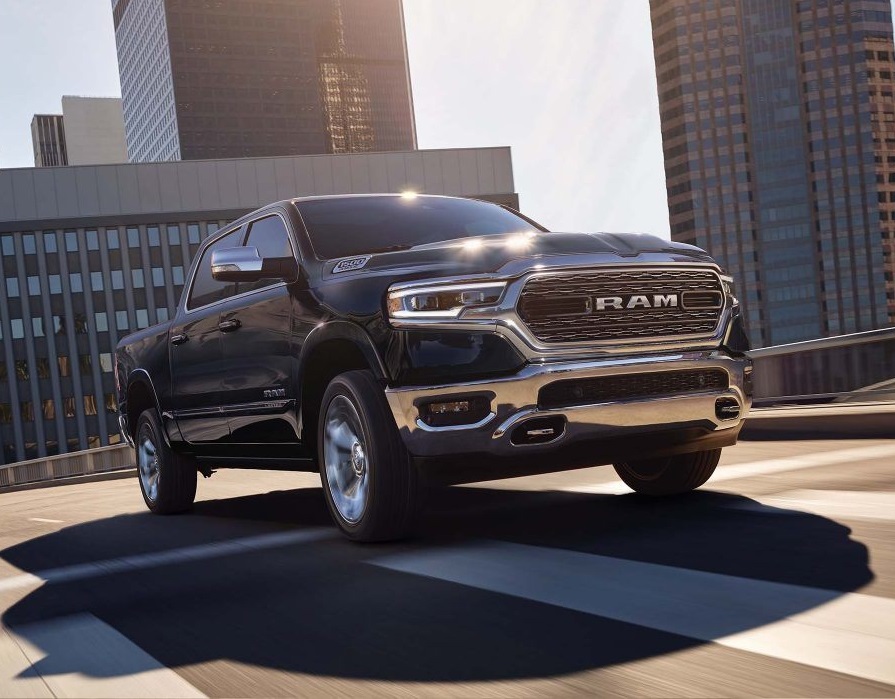 Powertrain – RAM 1500 specs in Albuquerque NM
Toyota's fuel economy figures are 15 mpg city, lagging far behind Ram's 20 mpg city. Furthermore, the Tundra's 20 mpg highway lags far behind Ram's 25 mpg highway. Ram's gas mileage could prove to be a major asset for a business that is watching its bottom line. Serving Albuquerque Los Lunas Santa Fe Ram drivers, this fuel savings is certainly helpful to the average consumer on their daily drive. When the V6 eTorque and Tundra basic V8 are head to head, the Tundra can claim a 70-pound lead in tow ratings. If the two 5.7-liter V8s are in competition, however, Ram claims a big advantage. The Tundra's top tow rating is 10,200 pounds. A Ram 1500 can tow as much as 12,750 pounds. That 2,500-pound gap could make a difference to a regular hauler. It certainly demonstrates the strength of the Ram's engine and build. In this 2019 Ram 1500 vs 2019 Toyota Tundra match-up, it must be noted that only Ram has a leveling air suspension. This available system lowers or raises the bed as needed. You can make it easier to load or give yourself extra inches on the worksite, farm or trail. With the push of a button, the Ram 1500 can level the load by changing the height at all four corners if necessary.
Safety – 2019 RAM 1500 dealer
Ram 1500s and Toyota Tundras may be well matched in terms of overall cabin size. It should be noted that the Ram backseat is especially spacious, measuring 65 cu.ft. for passenger space. This allows back row passengers to enjoy 45 inches of legroom. Only Ram cabins have RamBins. These are under-the-floor compartments that are removable and washable. Drivers can stow muddy boots in one and protect their laptop in the other. If you choose RamBoxes, these are places along the sides, keeping the impact on bedspace to a minimum. To learn more about the 2019 Ram 1500, take a hands-on approach. Schedule a test drive at your Albuquerque RAM dealer, serving Albuquerque Los Lunas Santa Fe shoppers.