New Dodge 2021 Dodge Challenger Lease and Specials serving Amarillo TX for Sale in Albuquerque NM l Las Cruces
2021 Dodge Challenger Lease and Specials serving Amarillo TX
---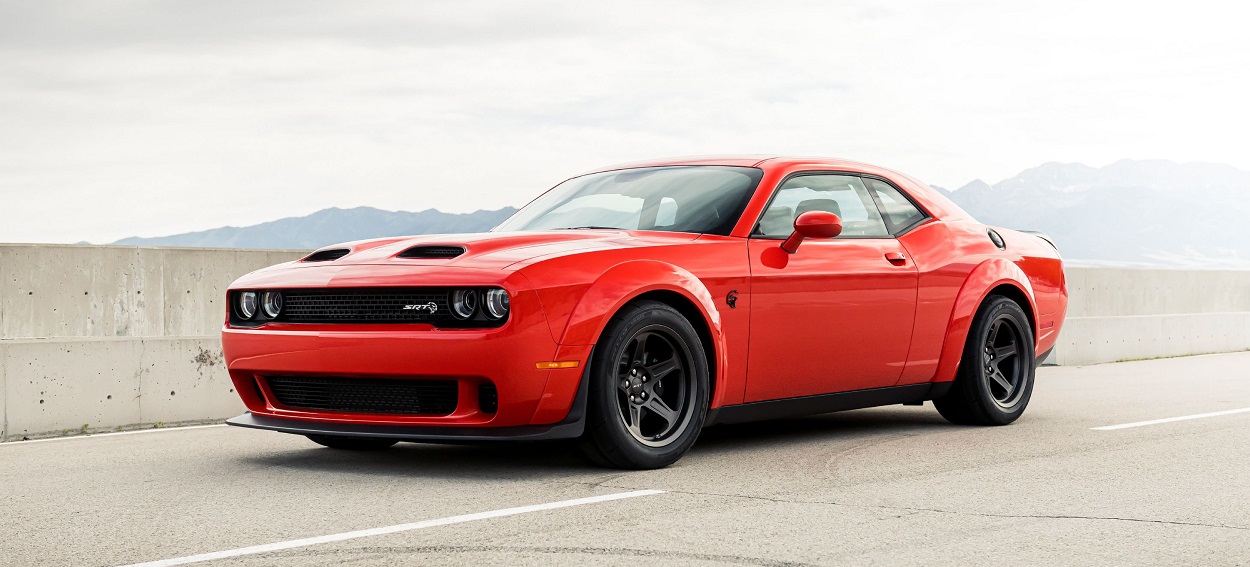 Dodge Challenger Lease Specials and Finance Offers in Albuquerque NM near Amarillo, Lubbock TX
Why Lease or buy 2021 Dodge Challenger serving Amarillo TX
Not only is the 2021 Dodge Challenger back with a more dominant design, but it's sporting class-exclusive 5-passenger seating and the ability to take your buddies along for the ride. As one of the premier muscle cars in the world, it has a responsibility to lead the way each year, and it certainly does in this year. Call it a banner year for the 2021 Dodge Challenger serving Amarillo with more than it ever bargained for. You muscle car fans are going to instantly want one of these for yourself. And the folks here are making it easier for you, too, thanks to Melloy Dodge online specials that usher in a best price scenario for you. We want you to have the customized 2021 Dodge Challenger serving Amarillo Texas with pure muscle car grandeur.
*Not actual vehicle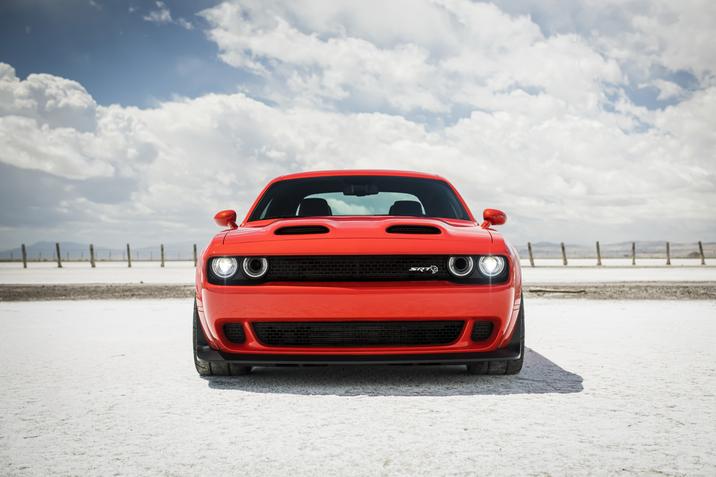 Exterior – Dodge Challenger
The 2021 Dodge Challenger serving Amarillo is cut from a different cloth. Its cutting edge sculpted look is cloaked with badges and stripes and all the things that make you want to look for online specials to Amarillo Texas so you can get your hands on one of these. A best price opens up exterior perks like 18-inch low gloss granite wheels with 315 drag-radial tires. Signature LED headlamps are just the start of things. You can get a satin black wrapped roof and decklid, bodyside stripes, and illuminated Air-Catcher headlamps to really take things over the top. And is there anywhere to be on a 2021 Dodge Challenger but over the top? Use Melloy Dodge online specials to customize your ride.
*Not actual vehicle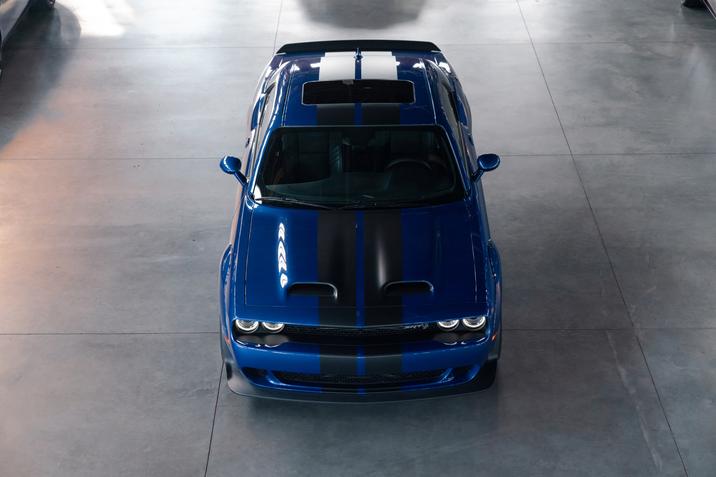 Interior – 2021 Dodge Challenger
The Dodge Challenger has more passenger capacity than any model in its class, despite being able to pull off the coupe glamour. How do they do it? Well, we don't know, but we're sure glad that they did. Open up the interior of the Challenger and appreciate its stellar tech, its refined performance seats that put the driver in the lap of luxury. The SRT trim gets dashing red seatbelts for an extra sporty touch. Special attention to details come in with a suede headliner and real carbon fiber flourishes of greatness. And don't forget that your leather-trimmed options and multiple color choices allow you to customize the look of your Challenger in every corner. It has multiple colors to pick from, far more than almost any other model in this class. Muscle car folks are picky. Dodge gives you those options to pick from.
*Not actual vehicle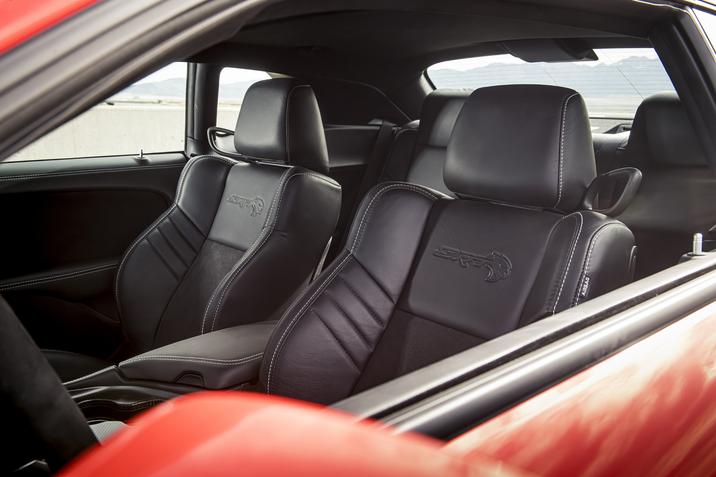 Mechanical – 2021 Dodge Challenger
Leave the competition in the dust with an 807 horsepower, 707 lb-ft of torque 6.2 High-Output HEMI V8. The Super Stock ranks as the most powerful muscle car in the world, no holds barred. This is going to leave some serious smoke behind at the track and leave the rest of the crowd envious that it's you behind that wheel. The build of the Challenger really suits its power, though. Unlike so many other vehicles that leave off the fun stuff, the Challenger looks – and is – the most powerful vehicle in its class. It doesn't hide the fact that it's out here to have a good time.
*Not actual vehicle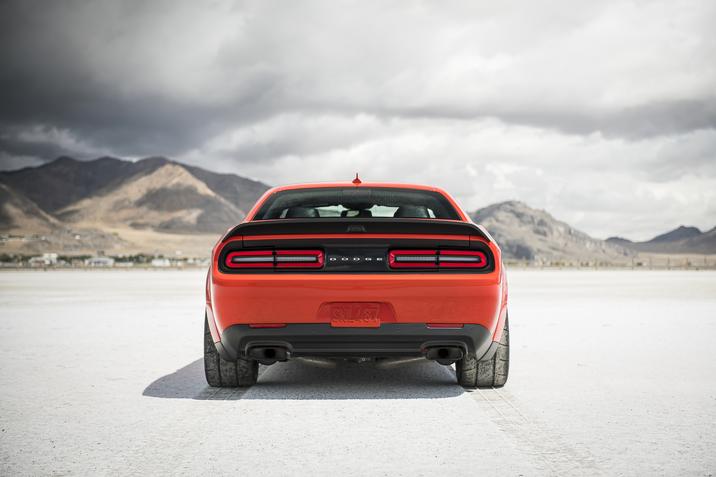 Technology & Safety – 2021 Dodge Challenger
The new technology and sound package in the Challenger is remarkable. Red-tinted digital instrument clusters and pure energy are all throughout the cabin. You're connected and in-tune with your car and your world. An 8.4-inch touchscreen with navigation kicks off the festivities and gives you standard Apple CarPlay and Android Auto. Those two features are a must in any vehicle today, muscle car or not. You want that ability to share your world with your buddies, and nothing gives you that power like a large touchscreen and smartphone integration. Hands-free calling is important, too, because that gives you more time to man this beast. You get not one but two world class audio systems to choose from: a 506-watt amplifier via your Alpine system or a Harmon Kardon premium audio system with subwoofers to win you over. This is the kind of car that cranks it up on everything, including music. Dodge wants you to have fun in your Challenger, but they also want you to be as safe as you can be. They've accomplishes this on the Challenger by giving you a stream of beautifully executed driver-assist features to control every part of your ride. A ParkView rear backup camera gives you a look at your rear vehicle area when you shift into reverse. It does this automatically. Use gridlines to help you maneuver into your parking area. Automatic high-beams take care of kicking the lighting up a notch during night-time driving and foggy conditions. New blind spot monitoring is especially handy, too, protecting your Challenger on all sides while you take care of the fun. Fun is always a lot more fun when it's safe, and the Challenger is wonderful at protecting its crowd.
Request 2021 Dodge Challenger Specials in Albuquerque NM near Amarillo, Lubbock TX
We want you to see the new Challenger today. Contact us today about Melloy Dodge online specials.