New Dodge 2022 Dodge Challenger in Albuquerque NM for Sale in Albuquerque NM l Las Cruces
2022 Dodge Challenger in Albuquerque NM


View Inventory
The 2022 Dodge Challenger in Albuquerque speeds into our dealership this year with massive new wheels, badging, and a Jailbreak mod that's going to enchant even the most veteran of street racers. Melloy Dodge lease specials are designed to help you get the most out of a leasing agreement. Our team understands the 2022 Challenger is a status symbol for so many people, a king of the street that says something about how hard you've worked, how far you've come, and how convincingly you're going to keep on going no matter what. Score a best price in Albuquerque on this legend of the urban kingdom.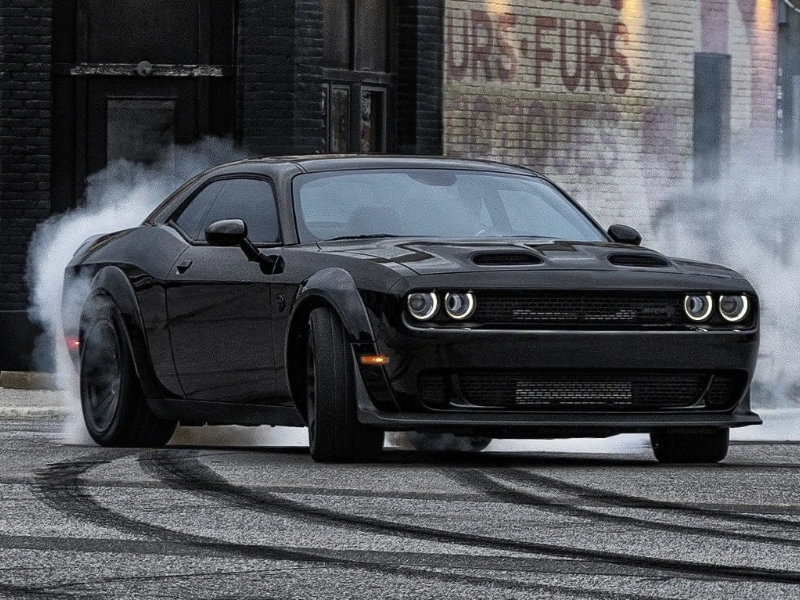 Exterior – Dodge Dealer serving Albuquerque NM
The highly customizable 2022 Dodge Challenger in Albuquerque is somewhat of a super model in the industry. It has a chiseled physique, muscular build, and pretty boy grille that all go together in one sweeping statement of urban sovereignty. In a world of its own at all times, it's the model that other people follow. Our Melloy Dodge lease specials can help you get the hallmarks of the Challenger's greatness, including: Badges (HEMI fender badge, R/T Scat Pack fender badge, and Hellcat badge), SHAKER hood, Satin black wrapped roof, 20-inch low gloss granite aluminum wheels, R/T Scat Pack Widebody look. And don't forget to earn your stripes! This year, Dodge dishes out Scat Pack, Dual, and Blacktop Stripe packages.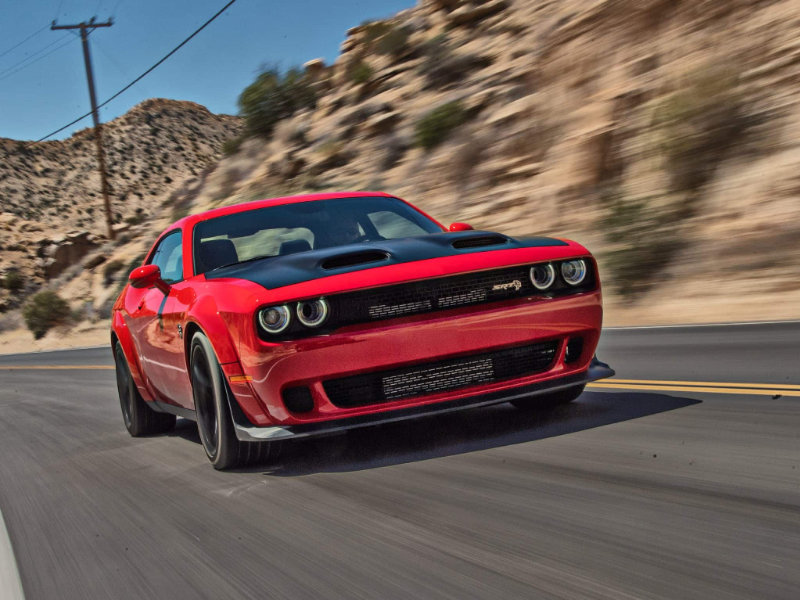 Dodge calls its interior seating and fabrics a "Thrones and Tones" package. What's your throne going to look like this year, and will you grab the best price in Albuquerque from our team so that you'll have just the right tone? We hope so. You'll have plenty of homework to do this year, as Dodge brings on massive choices and colors for your Challenger interior. One of our favorites is their Sport Seats Ruby Red choice. It's Ruby Red Nappa leather trim with Nappa metallic bolsters and Nappa perforated inserts. If you're more into performance seats, they've got even more choices. One of our favorites here is the two-tone Black/Caramel Nappa leather trim with Alcantara bolsters and perforated inserts. Accent stitching on each one of these choices is superb. Your new 8.4-inch touchscreen system unlocks Performance pages this year, a lineup of details that keep track of your vehicle's most vital functions. Track things with timers, gauges, and G-force measures.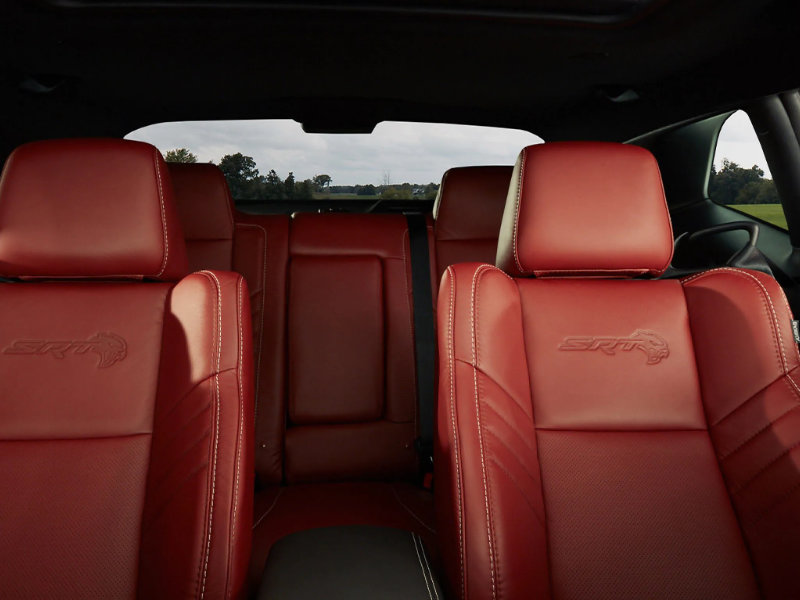 Dodge Challenger Mechanical specs
Kickstart your heart with a 3.6L Pentastar V6 engine rated at 303 horsepower. Remember, though, that's just for starters. Other choices this year include the 6.2L HEMI V8 rated at 707 horsepower and 656 lb-ft of torque, Supercharged 6.2L V8 rated at 807 horsepower, and 392 HEMI V8 good for 485 horsepower and 475 lb-ft of torque. Everything shifts with a TorqueFlite 8-speed automatic transmission.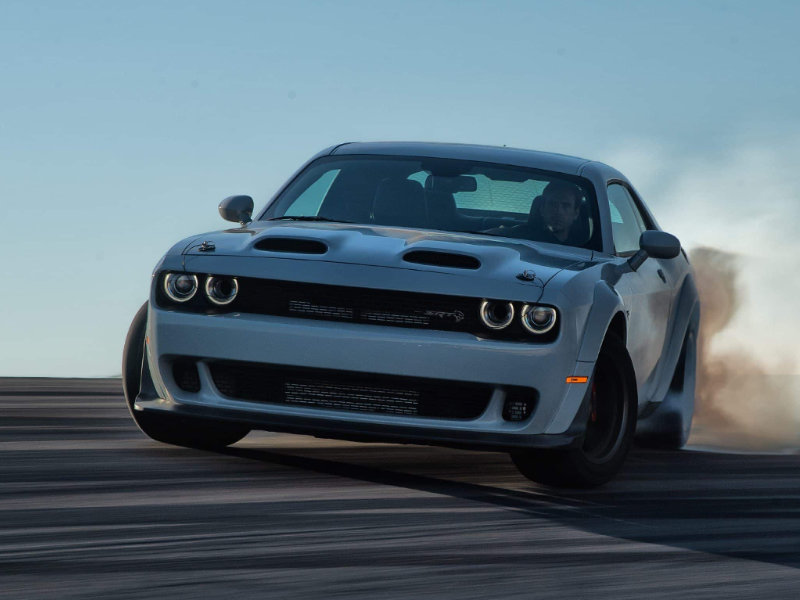 Technology – Dodge Dealership in Albuquerque NM
An 8.4-inch command center is ready to serve you every time you step into the Challenger. No other performance platform is quite as sophisticated as this one. Dodge leaves no stone unturned here, giving you G-force stats, tracking of oil temperature, and all engine info right on the screen before you. It's almost as fun to track the Challenger as it is to drive it (okay, not quite). It's a heck of a platform, though, and really takes your Challenger into a new-gen mindset.
Safety – 2022 Dodge Challenger dealer
Dodge calls the Challenger's safety platform a group of "protected power" features. They begin with a solid structure/high-strength steel build that surrounds you with the toughness of the Challenger itself. Then they give you active front head restraints and all-speed traction control. Every component of your exterior is meant to react with the road in real-time, shifting and adjusting its stature and hold with the punches as they come. Intelligent features include Blind Spot Monitoring and a ParkView Rear backup camera. Monitor the area behind your vehicle in real-time and respond to warnings as they come. If you're in danger of hitting another object or person, first your Challenger warns you. If you don't brake, then it's going to take matters into its own hands to prevent the collision. Everyone can depend on the 2022 Challenger to protect them in all circumstances that arise on the roads ahead in life.
Melloy Dodge lease specials are now live for the 2022 Dodge Challenger. Please contact us online or offline to learn more!
Anyone interested in a classic American muscle coupe will want to have a look at the 2022 Dodge Challenger that is now available in Albuquerque New Mexico at our area Dodge dealerships. The Challenger has a reputation for delivering the most fun and exhilaration at this price point, but the modern Dodge design is about more than just brute force. This a comfortable vehicle that gives you the option of all of the amenities and technologies that consumers expect. To help you build your Challenger, Dodge offers eleven distinct 2022 Dodge Challenger trim levels and many options.
SXT
The SXT is the base model. It has a 303-horsepower V6 engine under the hood, so it is no slouch. Dodge pairs that engine with an eight-speed automatic transmission, and while rear-wheel drive is standard, you do have the option of all-wheel drive. Standard features include 18- or 19-inch alloy wheels, zoned auto climate control, a 7-inch touchscreen, keyless entry, push-button ignition and six-speaker audio.
The GT builds on the base SXT package with a sportier appearance, including 20-inch wheels, a functional hood scoop and fog lamps. It also upgrades the handling and ride comfort with performance steering, suspension and brakes. Other notable additions include cloth performance seats and remote engine start if you stick with the automatic transmission rather than opt for the manual.
R/T
The R/T is the first of the 2022 Dodge Challenger trim levels in Albuquerque to feature a V8 HEMI engine. This engine doles out 375 hp and 410 lb.-ft. with the standard six-speed manual transmission and a bit less if you opt for the automatic. It also features an active performance exhaust system.
R/T Scat Pack
The Scat Pack is a more muscular version of the R/T: a 6.4-liter V8 good for 485 hp and 475 lb.-ft. It also has upgraded engine cooling, Brembo performance brakes, launch control and a tire warming system. It also gets extra amenities, such as heated seats, a heated steering wheel and an 8.4-inch touchscreen.
R/T Scat Pack Widebody
This is the first of the 2022 Dodge Challenger trim levels in Albuquerque to include the widebody kit. The trim is otherwise the same, and the kits adds about 3.5 inches and provides a more muscular look.
SRT Hellcat
The SRT series features the most powerful Challenger models. The Hellcat has a supercharged 6.4-liter V8 HEMI—717 hp and 656 lb.-ft—along with performance cooling and a competition suspension.
SRT Hellcat Widebody
As with the R/T Scat Pack Widebody, this model is simply the SRT Hellcat with the addition of the widebody kit. The kit provides a more aggressive aesthetic and increases overall width by 3.5 inches.
SRT Hellcat Redeye
This model includes a high-output version of the 6.2-liter V8 engine: 797 hp and 707 lb.-ft. It is only available with the eight-speed automatic transmission and adds an SRT Power Chiller.
SRT Hellcat Redeye Widebody
This builds on the SRT Hellcat Redeye package with the widebody appearance package.
SRT Super Stock
The SRT Super Stock is a drag racer that pushes the limits of what is street legal. It features an even higher-output version of the 6.2-liter V8 that hammers out 807 hp and 707 lb.-ft. Although not in the name of the trim level, it does feature the widebody kit along with other special styling cues.
SRT Jailbreak
The SRT Jailbreak is the newest of the 2022 Dodge Challenger trim levels in Albuquerque. This is essentially an SRT Hellcat Redeye Widebody but with a wide range of—as Dodge puts it—funkier customization options that you can choose to personalize your Challenger in fun ways.