Service Department at Melloy Dodge on Coors
The Service Department at Melloy Dodge RAM Fiat in Albuquerque, NM is here to assist with vehicle maintenance as a Mopar® Service Center. While we specialize in servicing all of the Fiat Chrysler models, we can service any make or model of car, truck or SUV and offer many service specials.
For routine services like oil changes, vehicle checkups, new tires or rotations, please do not schedule service online, just drive into our no-appointment Express Lane .
For Express Lane or full-service work, please arrive 30 minutes prior to closing to allow us time to service your vehicle.
The Express Lane is open Monday through Saturday.
Our Service Department is ready for more extensive service work and is open Monday through Saturday. Our ASE-certified mechanics will diagnose and resolve issues with your gasoline or diesel engine vehicle. An early-bird dropoff is available in the Service entrance on the south side of the property, accessible from Coors Blvd in Albuquerque. Scan the QR code at the early-bird dropoff to easily connect to a service advisor.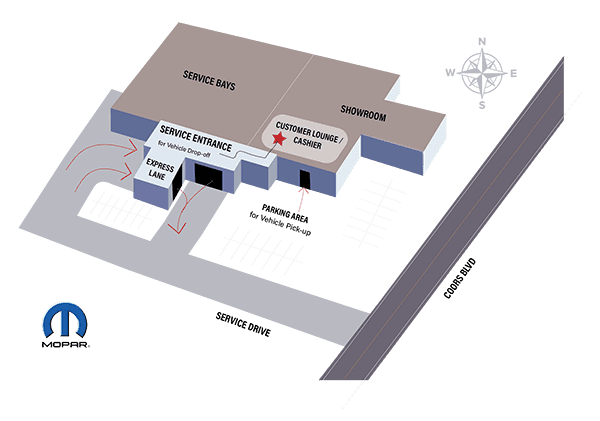 Note that your check-in time is the time allotted for you to speak with a Service Advisor who records information for diagnosis or repair. The actual time your vehicle goes into the shop for the service technician may vary greatly; please do not expect that if your appointment is at 8 am, that your vehicle goes into the shop immediately afterward. Many factors determine when a vehicle will enter the shop, and each vehicle's diagnosis affects all others in the queue.
During your service work, you are welcome to wait in our newly remodeled Service Lounge. Our Courtesy Shuttle service is operating Monday through Friday, 7:45 am to 4:30 pm, and Saturday, 8 am to 4 pm.
Melloy Dodge is NM Safe Certified, part of our commitment to cleanliness and frequent sanitation during Covid-19. We proudly serve Las Cruces, Santa Fe, Las Vegas, Socorro, Gallup, Roswell, and Los Lunas, NM, and Amarillo, Lubbock, Andrews, Midland, and Odessa, TX, and beyond.
For money-saving offers, visit our Service Specials or check out our Vehicle Protection Plan with 120,000 miles of coverage or our Tire Protection Plans.
National Rebates from Mopar® can be found here, and national MOPAR® coupons here (note that some of these are not offered at our dealership.)